History of Bangalore | Tourist attractions in Bangalore | Tour to Bangalore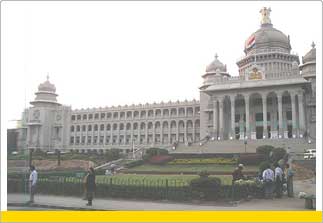 India tours and travel takes you on a tour to Bangalore, popularly known as the 'City of Gardens'. Around the 1500's there were many groups set on elevation, like the Vijayanagar empire, South Indian sultanates, the Marathas and others. Kempe Gowda, an upwardly mobile chieftain established a fortified encampment, which gradually developed into the city of Bangalore. Later Tipu Sultan of Mysore built a park and palace here. The town of Mysore close by was the ceremonial capital, while Bangalore was the commercial capital of the princely state of Mysore.
The history of Bangalore tells us that the Mysore kingdom was believed to be an ideal place to restore by the Britishers, it was considered very progressive. Far sighted statesmen who ran the state were very quick on the uptake, thus Mysore had India's first iron and steel works, besides hydroelectric power generation and the like. Bright and talented people from all over India were attracted by Mysore state, so there is today a remarkable level of culture and sophistication in Karnataka state and Bangalore city.
In 1687, the Mughals captured Bangalore from the Bijapur Sultanate and gave it on lease to King Chikkadevaraya Wadiyar of Mysore, eventually selling the city to the Mysore rulers for a paltry five lakh Rupees. The 19th century saw Bangalore grow from a mere military station to a flourishing administrative center and a prime residential locality with an aura of graciousness that sets it apart from other cantonments. It was separated from the old town, which had the fort as its nucleus, by a strip of open land about a mile-and-a-half wide.
Mysore State acceded to the union in 1947 and the then Maharajah, Sri Jaya Chamaraja Wadiyar, became the governor. When the States Reorganization Act of 1956 reorganized the Indian states on a linguistic basis, a new Mysore State (renamed Karnataka in 1973) was formed to unite the Kannada-speaking areas of the country and Bangalore remained the state capital.
On your tour to Bangalore you can visit the mud fort, with eight gates, which lent their names to different areas: Ulsoor Gate, Kengiri Gate etc. The fort depicts the glorious past of the city of Bangalore.Inside the fortress walls, the city grew into a bustling commercial area, dividing into pets or localities where one trade dominated each area.
India tours and travel takes you to the beautiful city of Bangalore.The city is now popular as a business city amongst the executives of global multinationals with many large global IT firms which have a presence here.
History of Bangalore | Tourist attractions in Bangalore | Tour to Bangalore