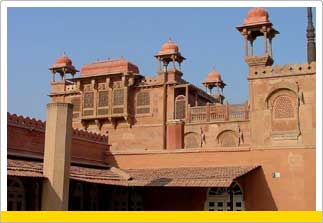 Bikaner was founded in 1488 AD by Rao Bikaji from whom the city gets its name. Bikaji was the son of Rao Jodhaji. Jodhaji had asked his son to establish a kingdom of his own -- a challenge that Bikaji had accepted. He chose the wild country 'Jangaldesh' as his territory, the location of the walled city.
A seven-km wall with five entrances was build to protect the city from the desert and external aggression. Inside the fort are some exquisitely designed beautiful apartments which are grandiose and opulent. The city flourished as an important trade centre between Gujarat sea ports and west Asian countries. The unbroken line of descendants of Bikaji ruled Bikaner till India got independence.
Nearby is Deshnoke where in a marble-fronted temple, rats are fed since they are considered sacred. And at Gajner is a formal hunting lodge by a lake. Conservation efforts have declared it a santuary. Till a few decades ago, Gajner was particularly celebrated for its imperial sandgrouse shoots.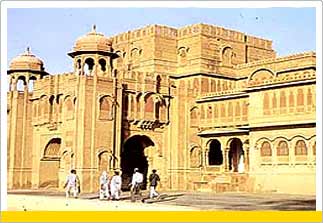 Bikaner is known for its good breed of riding camels, which are among the best in the world. A camel festival is held every year in the city. Unlike other cities of Rajasthan, Bikaner has been able to preserve its medieval traditions and is a must visit on your India tours and travel.
Reaching Bikaner:
Bikaner is on the metre gauge network with convenient connection from Delhi, Jaipur and Jodhpur. Air Conditioned coaches are attached to the Delhi trains.
Bikaner is well connected by road. The National Highway 8 connects Agra to Bikaner via Jaipur. The city is also on National Highway 11.