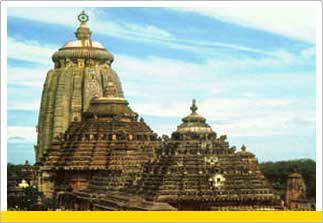 One of the biggest pilgrimage centres of India, Puri is situated in Orissa on the coast of the Bay of Bengal. Puri is the seat of Lord Jagannath (Lord of the Universe), Subhadra and Balabhadra. The city's activities revolve around the Jagannath Temple.
The holy city is located 60 km from Bhubaneswar on the coast of the Bay of Bengal. It is one of the four holy dhamas of India - Puri, Dwarka, Rameswaram and Badrinath Sri Ramanuja visited Puri between 1107 and 1117 century AD and stayed for some time. Vishnu Swami visited Puri in the second half of the 12th century and established a 'Matha' near 'Markandeswar' Tank, called "Vishnuswami Matha". Nimbarka Acharya also made a pilgrimage to Puri, and Srila Prabhupada visited in January 1977. The present temple structure was built in the 12th century by the 'Ganga' King 'Choda Ganga Deva', replacing an earlier structure, which probably dated to the 10th century.
Until recently, almost the entire temple was covered in white plaster, so much so that European sailors in previous centuries used it as a navigation point, referring to it as the "White Pagoda".
During you India tours and travel, when you reach Puri, you will notice the 214 feet (65 meters) spire of the temple towering over the countryside, from a distance. This visual dominance is symbolic of the influence which the temple commands over almost every aspect of life in Puri. The huge temple compound, each side of which measures 650 feet (some 200 meters), is surmounted with a 20 foot (6 meters) wall. Within the compound is a city, or, more accurately, a universe unto itself. With 6000 direct temple servitors, a temple kitchen which feeds 10,000 people daily (and some 25,000 on festival days), and a central deity who has become the focus of religious life throughout Orissa, the Jagannath temple is truly an institution unique in the world.
Orissa is a land of innumerable fairs and festivals celebrated round the year but the most spectacular of them is the Rath Yatra, known as the Car Festival to the western world.
The Gundicha Mandir temple is located at the end of Grad road (the main road) about 3-km northeast of the Jagannatha temple . At the time of the 'Ratha-Yatra' festival , Lord Jagannatha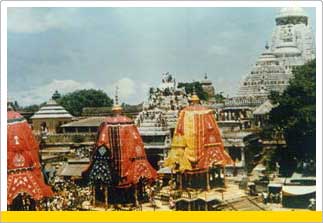 goes to the Gundicha temple and stays there for one week.
Puri is possibly one of the very few religious sites which combines the outdoor pleasures of sea and divine beaches with religious sentiments.

Places of interest
Lord Jagannatha Temple, Puri Beach & Gundicha Mandir
How to reach there:
By road : Puri is 60 km from Bhubaneswar.
By rail: Bhubaneswar is 60 kms away from Puri, Khurda road station is 44km from Puri.
By air: nearest airport is Bhubaneswar which is 60 km away.