History of Udaipur | Tourist attractions in Udaipur | Tour to Udaipur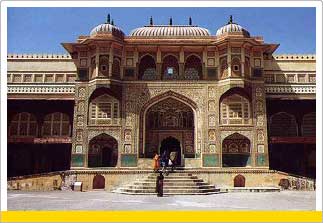 Udaipur is an enchanting city full of surprises as you will notice when you land there during your India tours and travel. It has lakes in the midst of sandy and often rugged terrain. There are fortreses that recount Mewar's hostory. Founded in 1599 by Maharana Udai Singh, the city is located on the edge of three lakes. Its narrow streets are lined with shops and craftspersons' studios encourage hours of window-shopping. Upmarket heritage hotels and spectacular palaces welcome travellers from around the country and abroad.
Jagdish Mandir is the focal point of the old city and the main hub for tourists. The City Palace, right next door, and lanes with a large number of shops selling souvenirs mark the place. The city is a veritable treasure trove of monuments and museums. People visit it to taste history and culture.
Begin with the City Palace. It is the largest palace complex in Rajasthan, rising 30 metres above Lake Pichola. Part of the palace is a museum with a vast display of artifacts.
You can also do the Crystal Gallery, which is located within the Fateh Prakash Palace, now a hotel, with its collection of 600 crystal objects.
Out of the palace you can visit the Jagdish Temple and take in the Bagore ki Haveli and the Gangaur Ghat. The Haveli has been refurbished and made into a museum. The Gangaur procession, held to mark the advent of spring in the month of March/April ends at the Gangaur Ghat. Nearby is the Vintage Car Museum of the present Maharana of Mewar. Shilpram, at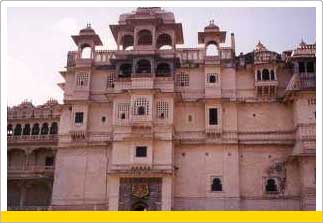 a little distance from the city is a living museum with huts of tribals.
Udaipur has a number of gardens among which the Sahelion ki Badi, Pratap Memorial, Sajjan Niwas and Dudh Tali are worth visiting. For more history, there is Sajjan Garh, the monsoon palace atop a hill and Ahar, the royal cenotaphs.

Reaching Udaipur:
Udaipur is connected to Delhi, Jodhpur, Jaipur and Mumbai by air. The Maharana Pratap Airport is 21 km from the city.
By rail, the city is on the Western Railway metre-gauge network and is connected to Delhi, Jaipur, Ajmer, Chittorgarh, Jodhupur and Ahmedabad.
By road, Udaipur is on National Highway No 8, the major road link between Mumbai and Delhi.
History of Udaipur | Tourist attractions in Udaipur | Tour to Udaipur