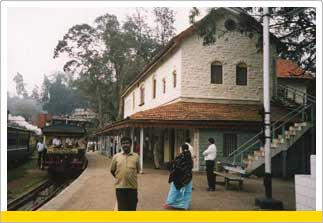 Coonoor is the second largest hill station located in the Nilgiri hills. Famous for its lush green environs and for a variety of flowers and birds, the hill station is perfect for trekking and hiking and is a must visit on your India tours and travel. It is also famous for its tea plantations and festivals. Visitors can also enjoy the ride on the toy train, which connects Coonoor with other hill stations in the Nilgiri Hills.
Located in the west of Tamil Nadu at an altitude of 1850 m above sea level, Coonoor is 19 km from Ooty. Coonoor has ravines, valleys, and waterfalls. Bird watching is a popular pastime in the hills around and the area boasts of a large variety of species like cormorants, pipits, thrushes, parakeets, skylarks, Nilgiri verditer, etc.
The Sim's Park is an important place to visit in Coonoor. It is a 12-hectare park, having a collection of over 1,000 plant species, which include magnolia, pines, tree ferns, and camellia. Visitors can take a walk through the tea gardens.
The Dolphin's Nose viewpoint, which is 10 km from Coonoor, is an important place to visit. It not only provides a panoramic view of the vast expanse of the Nilgiri hills but also of the famous Catherine Falls. Near Dolphin's Nose is Lamb's Rock, another vantage point to view the spectacular landscape.
Reaching Coonoor:
Coonoor does not have an airport of its own. The nearest airport is Coimbatore. Coonoor is on the toy-train line between Mettupalayam (28 km) and Ooty. Coonoor is well connected by road with Ooty, Coimbatore, and Kotagiri.