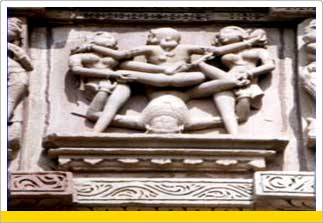 Khajuraho, is is a collection of fascinating temples. These were built between 950-1050 A.D. by the Chandela rulers. Khajuraho derives its name from the Khajur (the date palm) tree and is known the world over for its temples, architecture and sculpture. For a ringside view of the wonderful monuments plan your itinerary to include the city in your India tours and travel.
The divine sculptures in these temples, are a tribute to life itself. Embodying everything that is sublime and spontaneous. The murals depict the life and times of the Chandelas, while celebrating the erotic state of being. They not only testify to the mastery of the craftsman, as also to the vision of the Chandela Rajputs.
The Temples are a thousand-year old In terms of architecture of these temples, they are formed of the north Indian 'nagara' style. Of the 85 temples only 20 have survived.
The hub of tourist activity are the temples which were built by the Chandela Rajputs, who can be tracedas descendants of the moon god. The head of the clan is believed to have been a valiant warrior who fought lions bare-handed (hence the emblem, frequently seen at the temples, of a warrior grappling with a lion); he is said to have ordered the building of the temples as a means of salvation for his mother, Hemvati, who was ravished by the Moon god. The spate of temple- building which began about the middle of the 9th century and continued until the early 12th century must have used the skills of thousands of sculptors, architects and masons; unfortunately, there is almost no record of this activity in the annals of Indian history. By the time the last temple was completed the Chandela dynasty had sunk into oblivion. Khajuraho was the Chandela capital for only a brief period; they ruled for the most part from Kalinjar and other parts of the Bundelkhand region, with Khajuraho remaining their religious center. The most important aspect of the temples is the abundance of sculptures that decorate the facades and interiors of the shrines.
The Khajuraho temples are said to have a theme i.e. women, which reveals itself while wandering through the temples. It's a celebration of woman's myriad moods and facets. Khajuraho is located in Chattarpur district of Madhya Pradesh.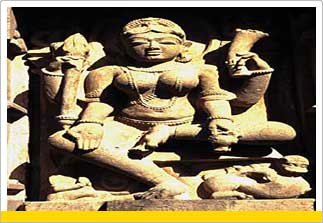 Places of interest
Mahadev temple , Lakshmana , Lakshmi and Varaha, Devi Jagdamba
How to reach there:
By Air: Khajuraho has an airport that is linked with daily services from Delhi, Agra and Varanasi
By train: There is no direct train to Khajuraho. The most convenient station is Jhansi which is linked to Delhi and other major northern cities. Satna is another convenient railway head.
By road: From Jhansi railway station to Khajurao is 175 kms. Satna is on the Bombay to Allahabad line of the Central Railways and is a convenient railhead from Delhi, Bombay, Calcutta and Varanasi. Satna is 117 kilometres away.