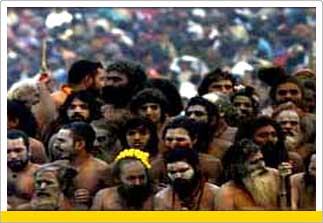 Situated at the confluence of three rivers, the Ganga, Jamuna and Saraswati this city blessed by gods, came to be known as Prayag' or 'Allahabad'.
It is also an important pilgrimage centre of India and for the religious minded it is a must visit on your India tours and travel. Many important events in India's struggle for freedom, took place here. This confluence of history, culture and religion makes Allahabad, a unique city.
In addition to being a major pilgrimage centre, the city has played an important part in the formation of modern India. Hindu mythology states that Lord Brahma, the creator god, chose a land for 'Prakrishta Yajna'.
Foreseeing the sancity of the place, Lord Brahma also called it as 'Tirth Raj' or 'King of all pilgrimage centres'. The Scriptures - Vedas and the great epics - Ramayana and Mahabharata, refer to this place as Prayag.
During the time of the Mughals a massive fort was built in 1583, by emperor Akbar.
Many important events in India's struggle for freedom, took place here - the emergence of the first Indian National Congress in 1885and also the beginning of Mahatma Gandhi's non-violence movemet in 1920.
Anand Bhawan, the home of Pandit Jawaharlal Nehru, is now a shrine to the independence movementand is now maintained as a Museum.
Places of interest
Muir College and the All Saints Cathedral., Anand Bhawan, Allahabad museum, University Archaeological Museum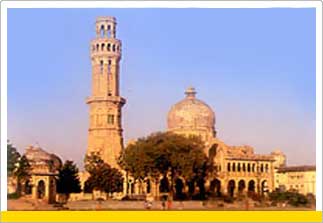 How to reach there:
By Air: Presently, there is no air link to Allahabad. Nearest Airports are Varanasi, Lucknow and Kanpur. Babatpur Airport, Varanasi Amausi Airport, Lucknow 2 Chakeri Airport, Kanpur.
By Rail: Allahabad has Four Railway Stations - Prayag Station, City Station, Daraganj Station and Allahabad Junction.
By road: Varanasi is 140 kms away, Ayodhya is 7 km., Chitrakoot is 7 km., Agra is 3 km., Ahmedabad is 7 km away Delhi is 643 km., Bhopal - 680 km., Mumbai - 1444 km., Calcutta - 799 km., Hyderabad - 1086 km., Jaipur - 673 km., Jhansi - 375 km., Lucknow - 204 km., Madras - 1790 km., Nagpur - 618 km., Patna - 368 km., Thiruvanathapuram - 2413 km., Udaipur - 956 km.