History of Jaipur | Tourist attractions in Jaipur | Tour to Jaipur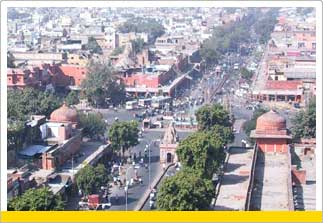 The city of Jaipur forms one of the major tourist circuits in the country. The Pink City situated at a distance of about 190 miles southwest of Delhi is famous for its magnificent forts and palaces. Jaipur is one of India's newer cities, founded in 1727, and was the creation of Jai Singh II, the Maharaja of the Kuchwaha Rajputs.
Main attractions on your tour to Jaipur include the City Palace and the Jantar Mantar, which is a fascinating astronomical observatory with massive instruments used to predict the monsoon and identify the movements of the stars. The city is also popularly known as 'Shopper's Paradise'. Travel to Jaipur would take you to the Johari Bazaar, which is a famous jewelers' market with the best selection of precious stones in India.
The name of the city 'Jaipur' has twofold emphasis. 'Jai' means conquest and is also the first name of its maker. Today, the city is a foremost tourist attraction in India because of its superlative forts, grandiose palaces, vivacious temples, multicolored bazaars, pulsating streets, and its distinguished pink color to which the city owes its oft-used name 'The Pink City'. On your tour to the old city you can see the traditional, fabulous, pink-colored houses with latticed windows lending charisma to a scene, which is almost miraculous at sunset.
India tours and travel takes you on tour to Jaipur for a memorable holiday experience. We provide you the best tours for the city of Jaipur, specially planned as per your convenience.
Places of interest: Hawa Mahal, City Palace, Jantar Mantar, Amber Fort, Nahargarh Fort, Central Museum and Sanganer.
How To Reach:
By Air: Jaipur has flights on a daily basis to and from Delhi and Mumbai. It is also well joined with Udaipur, Jodhpur, Ahmedabad, Jaisalmer, Aurangabad, and Calcutta. The airport is not more than 20 km from the center of the city.
By Train: You can find a train to and from Jaipur from all the major cities of India. From Delhi, you can catch Shatabdi Express, Intercity Express, The Pink City Express, and Chetak Express while the Super Fast Express links Jaipur with Mumbai. There are specialty trains like 'Palace On Wheels' and 'The Royal Orient' for a regal journey from Delhi.
By Road: Jaipur being the capital of Rajasthan, one can find frequent deluxe and luxurious air-conditioned buses from Delhi, Agra, and all cities of Rajasthan to Jaipur. The central bus stand, Sindhi Camp, is situated in the heart of the city.
History of Jaipur | Tourist attractions in Jaipur | Tour to Jaipur