History of Mumbai | Tourist attractions in Mumbai | Tours from Mumbai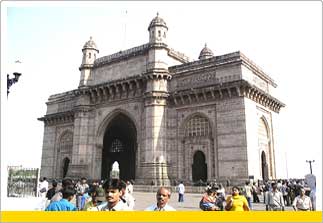 Maharastra's capital Mumbai is not only the country's financial capital but also a major arrival point for tourists from abroad. The biggest metropolitan and celluloid capital of India, Mumbai holds out promises to all those who visit the city as you will notice during your India tours and travel. Situated on the western coast of India, it is an ideal destination in the winter months: from November to March.
In olden days, the majestic Gateway of India used to be the arrival point for visitors who came by ship. Today, the Gateway of India has become a monument that best symbolizes Mumbai. It is a landmark that should be on every visitor's itinerary.
The other place to visit is the Prince of Wales Museum which has antique items of art, sculpture, china, rare coins, old firearms and miniature paintings. For the nature lovers, there is the Kamala Nehru Park and the Hanging Gardens. Marine Drive is the perfect spot for evenings with thousands of lights. For the beach lovers Chowpatty is a place where you can hang up your feet and enjoy cool breezes. The residence of Mahatma Gandhi in Mumbai, Mani Bhawan, or the Gandhi memorial too, is worth visiting.
The nearby Elephanta Caves, 10 km from Bombay harbour, on a small island is worth a visit. The island contains a fine cluster of 6th-8th century rock cut caves. The sculptures within the caves are beautifully executed and the most outstanding of these is the Mahesmurthy or Trimurthi, a five metre (18 ft) high three-headed bust hewn from a single rock.
Reaching Mumbai:
Mumbai is well connected by air from most cities of India as well as foreign destinations. The city is also a major railway terminus and as the financial capital of the country, very well linked by roads to cities and towns in the country.
History of Mumbai | Tourist attractions in Mumbai | Tours from Mumbai