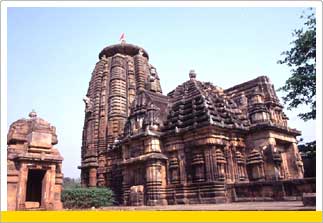 Situated in Orissa this ancient city of Bhubaneshwar (Bhuban being world and Iswar, God) depicts centuries of temple architecture. The city is a must visit on your India tours and travel. There are 600 temples still extant. It is probably the only city in the world that enables an authentic over-view of the stages of development of Hindu religious architecture.
The temples are a reminder of the splendour, the heritage that was once India. Regular dances by the 'Devadasis' or divine servant girls, rituals and rites, recital of hymns were all an integral part of temple culture. Temples in Bhubaneshwar are built on a common plan as prescribed by Hindu norms. The structure is divided into four distinct parts connected to each other. The external part or the outer chamber is the 'Jagamohana'. The Garbhagriha is the inner sanctum sanctorum of the presiding deity. There is also a conical beehive shaped tower which forms the third part - the Nata Mandap and the fourth is the Bhoga Mandap. All visible parts of a temple are sculpted with motifs of priests, kings, courtiers, pilgrims, celestial dancers, couples in embrace, birds, animals or scenes from religious epics and legends.
Driving on the Puri-Konark Highway from Bhubaneshwar one comes across Dhauli hill on the banks of the River Daya. Surrounded by green paddy fields, lies the 3rd Century BC Ashokan Rock Edict, a memory of the gruesome war that transformed Ashoka, the great Warrior into a Buddhist missionary. The Peace Pagoda is buildt on the opposite hill.
7 kms from Bhubaneshwar are the twin hills of Udaygiri and Khandagiri. Built by Kharavela around 1st - 2nd Century BC for Jain monks, they are excellent examples of Jain Cave art.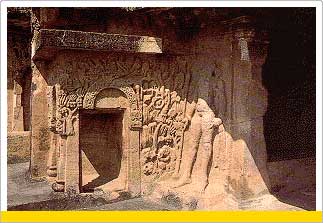 Places of interest:
Dhauligiri , Udaygiri, Khandagiri, Nandan Kanan Zoo Chandipur , Pipli
How to reach there:
By air: Bhubaneswar is well connected to all major cities of India
By rail: Bhubanewsar is the railway station and is connected by trains to the rest of India
By Road: Bhubaneshwar is situated on the national highway no.5 that runs between Calcutta and Madras. It is 480 kms from Culcutta, 130 kms from Chilika Lake (Barkul), 32 kms from Cuttack, 184 kms from Gopalpur-on-sea, 64 kms from Konark, 1225 kms from Madras, 62 kms from Puri.