History of Chennai | Tourist attractions in Chennai | Tours form Chennai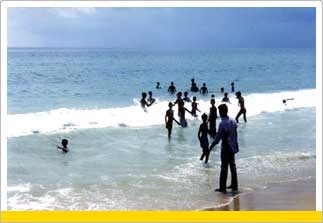 Located in the southern state of Tamil Nadu, it is one of India's biggest metropolitan cities. Chennai offers several sights and sounds to savour and is a must visit on your India tours and travel. The forts and palaces in Chennai stand in testimony of its rich past. Chennai's Marina Beach is also the second longest beach in the world. Chennai is the centre of South India's film industry; It presents a culture that is distinct and is famous for its traditional yet modern outlook. Chennai is a city where the traditional and the modern blend in life everywhere. From traditional vegetarian fare to fast foods, from nine-yard saris to the latest in fashion.
Places of interest
Company's St. George Forte , Santhome Cathedral, Kapaleeshwar Temple , Parthsarthy Temple Guindy National Park, Snake Park , National Art Gallery.
How to reach there:
By air: It has an international airport at Anna and a domestic airport.
By rail: Chennai central and Egmore railway stations.
By road : it is 356 kms from Bangalore, 494 kms from Coimbatore, 794 kms from Hyderabad, and 500 kms from Mysore.
History of Chennai | Tourist attractions in Chennai | Tours form Chennai