History of Kolkata | Tourist attractions in Kolkata | Tours From Kolkata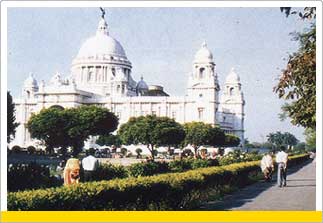 Kolkata (previously Calcutta) is one of the important metropolitan cities of India and is also the capital of the state of West Bengal. To many, it is 'the city of joy' which grows on you as you know it better. But for some - it is dirty, crowded and polluted. But it is not all that bad as you will notice when you plan a visit to the city in your India tours and travel. The city was established in 1686 when British moved to the small villages of Sutanati, Govindpur, and Kalikata from their trading port of Hooghly. The people here are proud of their culture having been blessed by Mother Teresa who spent a long period of her life in Kolkata , and Rabindranath Tagore who lived and formed a university at Shantiniketan 136 kms from Kolkata.
Places of interest:
Victoria Memorial, Fort William, Indian Musuem, Birla Planitarium, Eden Gardens, Howrah Bridge
How to reach there:
By air: Calcutta airport is 17 km from the centre of the city and is also called Dum Dum airport.
By rail: two rail head are Howrah station and Sealdah station.
By road: it is 1441 kms from Delhi, from Varanasi it is 670 kms away and 1960 kms from Mumbai.
History of Kolkata | Tourist attractions in Kolkata | Tours From Kolkata