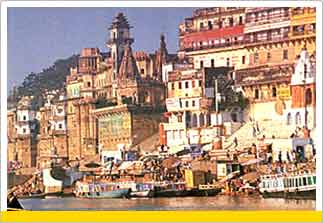 Varanasi or Banaras -- also well known as Kashi -- is one of the oldest living cities in the world and like most old cities of India, it is closely linked to Hinduism. Come and experience living history when you visit the city during your India tours and travel. Its reputation as an old and enchanting city captivated American novelist Mark Twain who wrote that "Banaras is older than history, older than tradition, older even than legend and looks twice as old as all of them put together". The city narrow lanes are charming and so are the shops and eating joints on both sides of the road near the temple, ashrams and river banks.
Located on the banks of the great Ganges and between the Varuna and the Assi streams, from which the city is believed to have got its name, Varanasi welcomes millions of devotees with open arms. It is not that the city is only home to followers of Hinduism for nearby is Sarnath closely associated with the Buddha. Temples abound in the city. There is a temple dedicated to Mother India besides the Durga temple and the Tulsi Manas temple. The city is also the centre of education, art and culture.
Steeped in tradition and mythological legacy, Kashi is believed to have been created by Shiva and Parvati. Revelling in myth and bathed in the holy waters of religion, the city has always attracted pilgrims and worshippers. According to Hindus, the very essence of being in Varanasi is an experience in itself. To every visitor, Varanasi offers a breathtaking experience: watch the rays of the rising sun across the Ganges, the chanting of prayers and temple bells, the ashrams along the banks and smell the fragrance of incense sticks at the many ghats.
The observatory of Jantar Mantar and the oldest university of North India, the Banaras Hindu University, are worth paying a visit. A centre of art, the weavers of Varanasi are well known for their creations in precious Banarasi silk saris and silk brocades.
The Ghats of Varanasi truly embody the real essence of this timeless city. As the first rays of the sun light up the gently-flowing Ganga, thousands of devout take the ceremonial bath in the waters of the river. Most perform rituals the way they were done, centuries ago.
The most famous of the temples is the Kashi Vishwanath Temple in the heart of the city. A gold spiraled temple rebuilt in 1776 AD by Rani Ahilyabai Holkar of Indore and dedicated to Lord Shiva, the spire on top is supposedly covered with a ton of gold plating.
Reaching Varanasi:
The nearest airport is the Babatpur airport, 22 km from Varanasi and 30 km from Sarnath. There are direct, daily flights between Varanasi and New Delhi. The city is also connected to Agra, Khajuraho, Kolkata, Mumbai, Lucknow and Bhubaneshwar.
Varanasi is an important and major rail junction. The city is served by trains from all metros and major cities across the country.
By road, Varanasi is on (National Highway 2) from Calcutta to Delhi and on NH7 to Kanya Kumari