Ahmedabad, situated in the state of Gujarat, in western India lies on the Sabarmati River. Ahmedabad, the city of Ahmed Shah (Medieval ruler of Gujarat), is known for its rich past and its association with the Mahatma (Great Soul), also known as Mohandas Karamchand Gandhi.
The city was founded by Sultan Ahmed Shah, the erstwhile ruler of Medieval Gujarat, in AD 1411. The city declined within a century of its being established. In 1572, Emperor Akbar seized it and assimilated it within the great Mughal Empire. Ahmedabad became an important business center during the Mughal period until the death of Aurangzeb in 1707, after which the city again began to decline. The British seized it in 1818 and set up a number of textile mills here. It became the temporary capital of the state of Gujarat from 1960 to 1970. The city is known for its unique style of architecture, which is a blend of Hindu and Islamic styles (Indo-Saracenic style of architecture). The monuments of Ahmedabad mainly date back to the 15th century.
It has always been known for its industry and because of its textile mills, Referred to as the 'Manchester of the East', Ahmedabad is a must visit on your India tours and travel. The place is also famous for its Makar Sankranti, which is celebrated in the month of January with kite flying, folk music and dance.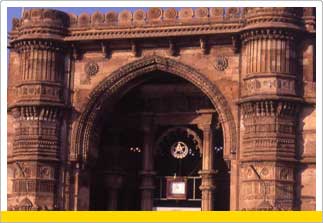 Places of interest:
Mahatma Gandhi's Ashram,. The tombs of Ahmed Shah and his queens, Ahmed Shah's Mosque, Jama Masjid, Mosque of Sidi Sayid, Teen Darwaza or Triple Gateway, Victoria Gardens, N C Mehta Museum of Miniatures and Calico Textile Museum.
How to reach there:
By air : Ahmedabad airport has both national and international flights. It is 10 km north of the city.
By rail : Ahmedabad is well connected by trains with Delhi, Mumbai, Vadodra and Udaipur.
By road : Ahmedabad is 440 kms from Mumbai, 32 kms from Gandhinagar