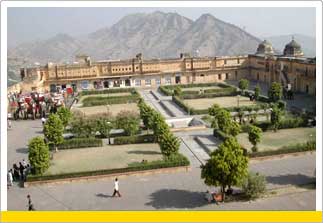 Ajmer founded in the 7th Century A.D.is a popular pilgrimage center for the Hindus as well as Muslims and is a must visit on your India tours and travel. Especially famous is the Dargah Sharif-tomb of the Sufi saint Khwaja Moinuddin Chisti. Ajmer is also the base for visiting Pushkar(11 km.),the abode of Lord Brahma.and lying to its west with a temple is a picturesque lake, the Pushkar Lake which is a sacred spot for Hindus. The Pushkar lake is a sacred spot for Hindus. During the month of Kartik(Oct./Nov.), devotees throng in large numbers here to take a dip in the sacred lake.

The city of Ajmer was founded by Raja Ajay Pal Chauhan. and continued to be a major center of the Chauhan power till 1193 A.D. when Prithviraj Chauhan lost it to Mohammed Ghauri.since then, Ajmer became home to many dynasties, which came and left leaving behind indelible marks of their culture and traditions on the city's history, converting it to an amalgam of various cultures and blend of Hinduism and Islam.

The Dargah: At the foot of a barren hill, is situated India's most important pilgrimage center for people from all faiths. It is the splendid tomb of the Sufi saint Khawaja Moinuddin Chisti more popularly known as Khawaja Saheb or Khawaja Sharif. The shrine is next only to Mecca or Median for the Muslims of south Asia. Akbar used to make a pilgrimage to the Dargah from Agra once a year.

The mausoleum has a gigantic gate,which was built by the Nizam of Hyderabad.The two massive cauldrons in the courtyard are of particular interest and on the right side of the courtyard ins the Akbari Masjid built in white marble. There is another mosque in the courtyard built by Shahjhan.
It is also a centre of culture and education, the British chose Ajmer for its prestigious Mayo College a school exclusively for Indian nobility.

Places of interest

The Dargah, Shahjhan's Mosque, Adhai-din-ka-jhonpra, Taragarh Fort, Adhal-din-ka-Jhonpra, Mayo College.

HOW TO GET THERE
By Air: Jaipur is 132 km is the nearest airport.
Rail: Regular train services link Ajmer with important cities.
Road: A good network of bus services operate from Ajmer to key destinations around.