History of Hyderabad | Tourist attractions in Hyderabad | Tour to Hyderabad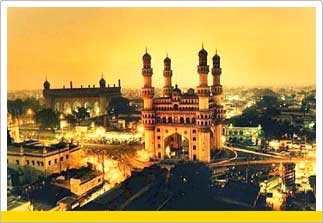 Hyderabad, the capital of Andhra Pradesh is a bustling 400-year-old metropolis with an urban population of 4.2 million people approximately. The city is cosmopolitan, and is richly endowed with a variety of cultures. The city presents an attractive amalgam of old world charm together with ebullience of growth and enterprise. Beautiful old edifices built in the medieval, large glass and chrome temples of commerce.
The history of Hyderabad begins with the establishment of the Qutub Shahi dynasty. Quli Qutub Shah seized the reins of power from the Bahamani Kingdom in 1512 and established the fortress city of Golconda. Inadequacy of water, and frequent epidemics of plague and cholera persuaded Mohammed, the fifth Quli Qutub Shahi ruler to venture outward to establish the new city with the Charminar at its center and with four great roads fanning out in the four cardinal directions.
In the year 1687,the fame of the city of Hyderabad, its strategic location, and Golconda's legendary wealth attracted Aurangazeb who captured Golconda after a long siege. After this defeat the importance of Hyderabad declined and the city fell into partial ruin. In 1798, a subsidiary alliance for military and political cooperation was signed between the Nizam and the British East India Company. Thereafter, an area north of what is now the Hussain Sagar Lake was established as a cantonment. The area was named Secunderabad after the then Nizam, Sikander Jah. Both Hyderabad and Secunderabad grew together and have now merged. An imaginary line drawn across the Tank Bund is still used to distinguish the two cities.
As the Mughal Empire decayed and began to disintegrate, the victory, Asaf Jah-I proclaimed himself the Nizam and established independent rule of the Deccan. Hyderabad once again became a major capital city, ruled by successive Nizams of the Asaf Jah dynasty until the state was merged into the Indian Union in 1948. With India tours and travel you can visit the city of Hyderabad, famous for its minarets and its pearl bazaar. Pearl from all over the world are said to come to Hyderabad because the artisans here are skilled in piercing and stringing pearls without damaging them.
History of Hyderabad city would help you know more about the history of Hyderabad, a reflection of which can still be seen in the city. Travel to Hyderabad with India tours and travels for an altogether new experience.
History of Hyderabad | Tourist attractions in Hyderabad | Tour to Hyderabad