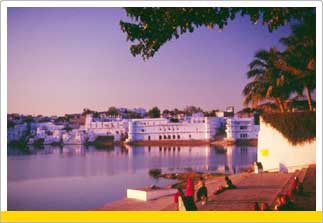 Travel to Rajasthan, India and find yourself in a land of color and passion. Rajasthan or "Land of Kings" is a vibrant state in Northwestern India. Meet the brave Rajputs of Rajasthan and see their grand forts, fabulous palaces, historic monuments and colorful festivals. Tour the historic cities of Jaipur, Jodhpur, Udaipur, Jaisalmer, Chittorgarh and Bikaner where tales of valor and sacrifice echo even today among the walls of the forts and palaces of Rajasthan. See magnificent tigers in Ranthambore and Sariska National Parks and birds in Bharatpur Bird Sanctuary when you travel to Rajasthan with India Tours and Travel.

Enjoy rides on the royal luxury trains of Rajasthan. Take a tour on the Palace on Wheels, the Fairy Queen or the Royal Orient. Experience royal luxury as these heritage trains carry you on magical voyages through the countryside of Rajasthan, India. Visit the pilgrimage destinations of Ajmer and Pushkar in Rajasthan and feel the mystical aura that draws thousands of pilgrims to the shrine at Ajmer or the holy Lake at Pushkar every year. Be enchanted by the beauty of Rajasthan when you travel to Rajasthan with India Tours and Travel.
Tourist Cities in Rajasthan
Destination Hotels in Rajasthan
Tour Itineraries
Rajasthan tourist cities: Rajasthan in northwestern India has many historic cities. Jaipur, the capital of Rajasthan, is also called the Pink city because of the color of its beautiful palaces and buildings. You can see beautiful monuments such as the Hawa Mahal and ride an elephant up to Amer Fort in Jaipur, Rajasthan. Udaipur in Rajasthan is famous worldwide for its Lake palaces set in the midst of Lake Pichola. Jodhpur, also known as the Blue city in Rajasthan, is renowned for the regal Umaid Bhawan Palace and the grand Mehrangarh Fort. Jaisalmer on the edge of the Thar Desert is famous for its Golden Fort and elaborately carved mansions. The cities in the Shekhawati region are famous for their painted havelis and the historic destinations of Bikaner and Chittorgarh have mighty forts and a fascinating history. The pilgrimage towns of Pushkar and Ajmer in Rajasthan attract thousands of tourists to these holy cities in Rajasthan, India. You can historic cities of Rajasthan when you travel to Rajasthan with India Tours and Travel.
Rajasthan forts and palaces: Rajasthan is famous for its grand forts and beautiful palaces. Impressive forts such as Amer Fort, the Jaigarh fort and Nehargarh Fort near Jaipur, Mehrangarh Fort in Jodhpur, the Golden Fort in Jaisalmer and the historic forts of Chittorgarh, Bikaner, Bundi and Gajner are worth visiting on tours of Rajasthan. Each fort with its impressive ramparts and gateways, cannon and weaponry and tales of valor and sacrifice is like a history lesson come alive. Step back into an era of Rajput warriors and epic battles when you travel to Rajasthan India with India Tours and Travel.
Rajasthan royal trains: The royal trains of Rajasthan are luxurious journeys that are meant for the select few. Book well in advance for the royal trains - The Palace on Wheels, the Fairy Queen and the Royal Orient are very popular with tourists who seek a heritage journey in royal comfort. Travel to the best destinations in Rajasthan on regal trains that offer you a luxurious journey to the most fascinating destinations in Rajasthan, India.

Rajasthan wildlife sanctuaries: Rajasthan has some of the best wildlife sanctuaries in India. The Ranthambore National Park and the Sariska National Park are Project Tiger reserves in India. These wildlife sanctuaries are home to the majestic Royal Bengal Tiger, which can be seen in the forest clearings and around the watering holes of these wildlife sanctuaries in Rajasthan. Other wildlife seen here includes leopards, deer, nilgai, wildboar, sloth bear, black buck, mongoose, monkeys, and many species of birds. Birds can also be seen in abundance at the Bharatpur Bird Sanctuary also known as Keolodeo Ghana National Park. Many migratory birds from central Asia and Russia travel to Bharatpur in the winter. Nature lovers are sure to enjoy tours of the wildlife sanctuaries of Rajasthan, India with India Tours and Travel.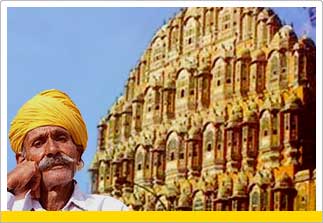 Rajasthan camel safaris: A camel safari is a unique attraction of Rajasthan. Camels have been used here for centuries to travel across the Thar Desert in Rajasthan. You can ride on a camel caravan across the rolling sand dunes of the Rajasthan desert and feel transported back in time. Imagine you're a Maharaja surveying his kingdom or a medieval trader carrying a precious cargo across the desert. See the stark beauty of the Thar Desert on camel safaris in Rajasthan.
Rajasthan cultural attractions: Rajasthan is a cultural treasure chest. The vibrant festivals, clothing, arts and crafts and cuisine of Rajasthan come together in a brilliant collage that is the cultural life of Rajasthan. See the religious and festive events at Pushkar and Ajmer, walk in colorful processions at the Teej and Gangaur Festivals in Jaipur and play Holi while seated on an elephant at the Elephant Festival in Jaipur. Go shopping for handcrafted textiles, decorated with mirror work and embroidery, dyed in delicate colors. Admire paintings, sculpture and jewellery made by the skilled hereditary craftsmen of Rajasthan. Immerse yourself in the cultural attractions of Rajasthan with India Tours and Travel.