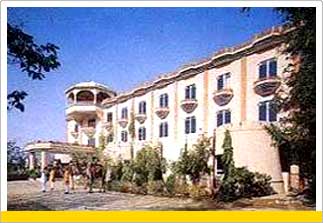 Ajmer is one of the most holy places in the country well known for the dargah or the mausoleum of Khwaja Moin-ud-Din Chishti, a 12-13th century saint. The other attractions are the Adhai-din-ka-Jhonpra, a Sanskrit college, which was converted into a mosque in the 12th century and Taragarh, or the Star Fort. Ajmer is the jumping off point for the nearby town of Pushkar, which is famous for the desert festival and is also a holy pilgrimage spot.
Mansingh Palace Hotel, Ajmer
Vaishali Nagar, Ajmer
From Jaipur airport: 135 km; and Railway Station: 2 km
Owned and operated by the Mansingh Group of Hotels, the Mansingh Palace is the most recognized hotels in the city. Its rooms are luxurious and there is also a one-bedroom luxury suite. The hotel provides 24 hour room service from its coffee shop. In addition, it has a multi-cuisine restaurant, the Sheesh Mahal, which is open for lunch and dinner. The hotel's bar, Sipah-Salaar, is well-stocked and serves the choicest liquors and cocktails.
The hotel makes arrangements for buggy and camel rides and even provides entertainments like fold dances and puppet shows.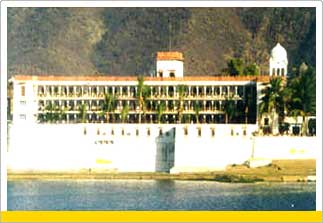 Amongst the first five pilgrimages of the Hindus, Pushkar is set in a valley surrounded by hills on three sides and sand dunes on the other. It is famous for the annual religious and cattle fair which is held here.
Hotel Pushkar Palace, Pushkar
Location: Bank of Lake Pushkar, Centre of the town. It is 2 minutes away from the local bus station and the nearest reailway station is Ajmer which is 13 km away.
With its panoramic view of 500 temples, Aravali hills and sand dunes this hotel is popular with tourists. There are 15 suites and 36 deluxe rooms with antique furniture. The hotel offers Rajasthani and other Indian cusisines at the Prince restaurant. Camel safaris around Pushkar are organized by the hotel for its tourists to enjoy the flora, fauna and the sand dunes.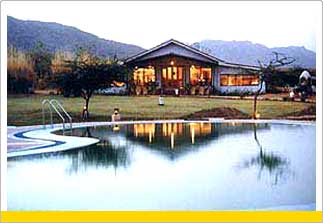 Hotel Pushkar Resort, Pushkar
Location: District Ajmer, city Pushkar and it is 4 kms from the town, at the edge of the desert.
This three star hotel is spread over 15 acres of desert terrain. There are 40 luxury air conditioned cottages set in small clusters with private sit outs. Besides facilities for banquets there is a restaurant which serves both European and Indian cuisines. For recreation there is a swimming pool, desert gold driving range, pool table and various indoor and outdoor games besides camel safaris.
Jagat Singh Palace Hotel, Pushkar
Location: Centre of Pushkar town. 2 minutes away from the local bus stand. 13 kms from Ajmer which is the nearest railway station and 150 kms from the nearest airport at Jaipur.
With the Snake Mountain on one side and the great Thar sand dunes on the other, this property offers a a royal opportunity to explore the beauty of Rajasthan. With its 36 super deluxe rooms furnished in Rajasthani style each room offers privacy and is a treat for its guests. The Umaid Mahal offers a multi cuisine menu with Rajasthani, other Indian dishes besides Continental and Chinese.
For recreation tourists could take small treks or a safari into the desert or the snake mountain or the rose garden. Tradional Rajasthani evening with music and dance makes evenings lively at this three star hotel.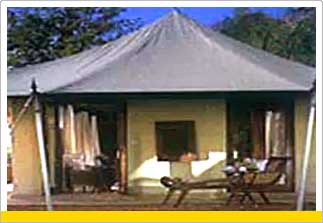 Famous for its historical Ranthambhore National Park, the forest is a shelter for a variety of plants and animals. It lies 180 kms northwest of Jaipur in the hills of the Aravalli and Vindhyachal ranges.
Vanyavilas Resort Hotel, Sawai Madhopur
Situated adjacent to the Tiger reserve this Five Star Resort is spread over 20 acres of land with over 1500 trees. It has 25 luxury tents each of which is air contidioned and has an area of 790 sq ft with tasteful interiors and attached bathrooms. Besides a multi cuisine menu to enjoy from, the evenings are lively with local musicians playing a selection of traditional Rajasthani music.
For recreation there are indoor and outdoor games including a pool bar and also a library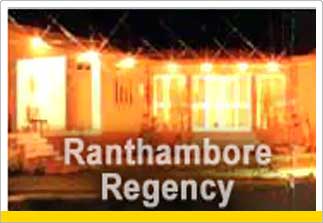 Ranthambore Regency Hotel, Ranthambore
Location: Ranthambore National Park Road, Sawai Madhopur, Rajasthan
2.5 km from station, 10 km from the National Park;
180 km from Jaipur
272 km from Pushkar
Set amidst greenery and vast space the resort provides the perfect setting to enjoy wildlife at its best. The resort has 20 deluxe rooms, 10 cottage rooms and a suite all of which are air conditioned with attached bath. There is a multi cuisine restaurant and bar-be-cues with bonfire are also organized. Safari trips are organized to the national park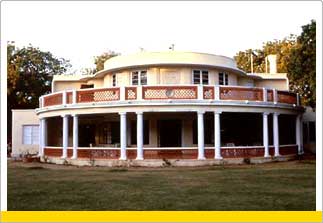 Sawai Madhopur Lodge Hotel, Sawai Madhopur
Location: Ranthambhore National Park Road, Sawai Madhopur, Rajasthan
1.5 kms from the railway station
Closest airport is in Jaipur, which is a three-hour drive
This lodge, now a Five Star Hotel which belongs to the Taj Group, was built by the Maharajah Sawai Man SinghII for his personal use for his hunting trips to the forest.
The hotel has 17 standard rooms, 10 superior rooms, 2 suites and 6 tents. For dining there is multi cuisine to choose from. Besides safaris to the jungle there is a swimming pool, horse riding and yoga for recreation.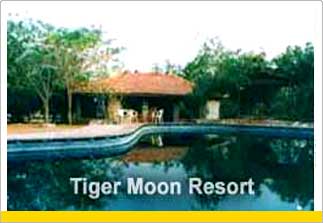 Tiger Moon Resort Hotel, Sawai Madhopur
Location: Situated in Sawai Madhopur, Rajasthan this resort I
170 kms from the Jaipur airport
12 kms from Sawai Madhopur railway station
This resort offers cottages built in ethnic Rajasthani style with all modern amenties. For dining there is everything you could choose from whether it be Indian, continental or Chinese. Traditional music and dance around the bonfire livens up the evening. Afternoons can be spent in the escorted safaris to the national park.