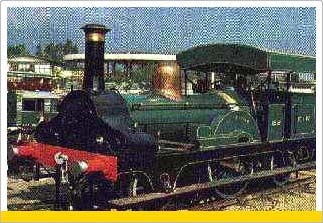 This is one journey that is exclusive. The Fairy Queen makes its trips once a month usually during the winter months of October to February and its compartments are reserved for 50 priviledged passengers.
Pulled by one of the oldest working engines in the world, the Fairy Queen takes its passengers on a fascinating weekend trip from the capital of India to Alwar, once a royal city. From there, the guests are taken to a tiger reserve forest for an overnight stay at a palace.
The train has all the trappings of royalty and during the journey you will be treated like a maharajah.
Fairy Queen Tour
(2 Days Tour)
Places Covered: Delhi, Alwar, Sariska.
Board the restored Fairy Queen vintage streamliner for a luxury train vacation on India's premier train. The train combines cultural enrichment and wilderness with modern comfort and conveniences.
The Fairy Queen, the luxury train of India has the oldest working engine in the world. You can board luxury train from October to February. With a capacity of 50 pax, this luxury train offers an unforgettable weekend tour to Rajasthan covering Alwar and Sariska Wildlife Reserve.
The Fairy Queen departs every second and fourth Saturdays of every month from Delhi Cantonment Railway Station at 10:00 hrs.
Day 1- Saturday - Delhi/Alwar/Sariska
Departs for Alwar from Delhi Cantonment Railway Station Snacks and Lunch on Board
Transfer to the Delhi Cantonment Railway Station to board the Fairy Queen, which leaves the station at 10.00 hrs.
On board the Fairy Queen, we traverse the colorful and arid landscape. You will be served snacks and lunch on board.
You arrive at the Alwar Station at 16.00 hrs and will be given a warm Rajasthani welcome. Enjoy drinks at Alwar.
You will depart Alwar Railway Station by A/c Bus for Sariska at 16.20 hrs.
After arrival at Hotel Sariska Palace, you will be given traditional welcome followed by cultural programs. Enjoy the dinner at the hotel, which will be served at 1930 hrs. Overnight at Hotel Sariska Palace.

Day 2- Sunday - Sariska/Alwar/Delhi
The unparalleled majesty of the Aravalis greets you this morning. 800-sq kms of protected land at Sariska National Park is inhabited by tiger, Nilgai, deer, wild boar, partridges, fox, sambar, gaur, hyena, chital, and the four-horned antelope.
You will undertake a jeep safari to the park early in the morning at 0630 hrs. After taking the safari, return to the Sariska Palace and enjoy the breakfast, which will be served at 0930 hrs.
After spending time at leisure you will return to the Always railway station by an air-conditioning bus at 1200 hrs. After arrival at the station at 1245 hrs, embark on the Fairy Queen which departs Alwar station at 1300 hrs. You will be served lunch and light refreshments on board at 1330 hrs and 1600 hrs.
The Fairy Queen arrives Delhi Cantonment Railway Station, at 1845 hrs.