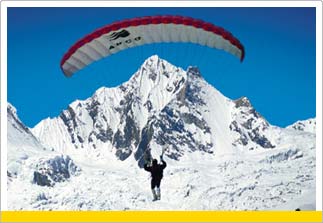 India has practically everything that a tourist could ask for and adventure sport is a great attraction. The wide choice of adventure sports ranges from the daring to the exotic. In almost all of them you can test your skill, toughness and endurance. Above all, they are exciting.
You can choose your kind of adventure from scaling the high peaks of the Himalayas, trekking to the Valley of Flowers, riding the waves in the rapids, or taking camel safaris in the Thar desert. There is trekking and mountaineering in the Himalayan region, river rafting and other water sports, camel and elephant safaris; bike tours, skiing, heli-skiing; hang gliding, sailing, tribal tours, orchid tours and many more offer excellent opportunities to nature enthusiasts. Your search for the ultimate excitement can begin and end in India.
Ladakh, Garhwal Hills, Himachal Hills, Darjeeling, Goa, Lakshadweep, Andaman and Nicobar, Manali, Jaisalmer and the wildlife reserves are the places to be visited for adventure activities. Several thrilling sports are available throughout the year in the Himachal Hills, the hills of Uttar Pradesh, Goa, Lakshadweep and Andaman and Nicobar.