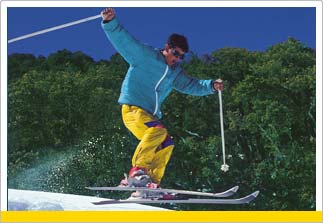 A comparatively new sport in India, skiing is becoming popular with adventure tourists. Cross-country skiing runs of around 10 to 20 km are available on the slopes of the Himalayas throughout the year. To add to that fresh powder snow is always available.
Auli in the Garhwal Himalayas has developed as a major skiing resort. Its excellent snowy slopes, pine forests and the towering Himalayan peaks of Nanda Devi, Karnet, Mana Parbat and Dunagiri nearby make it an excellent destination for skiing in summer.
The other skiing destination is at Pithoragarh, often referred to as Mini Kashmir. In addition to the skiing slopes, Pithoragarh and its surroundings possess natural beauty. In addition to these, there are a number of other places in Garhwal and Kumaon which are fast becoming skiing destinations.