Duration: 4 Nights/5 Days
Destinations Covered: Mumbai, Aurangabad.
Day 01 Arrival Mumbai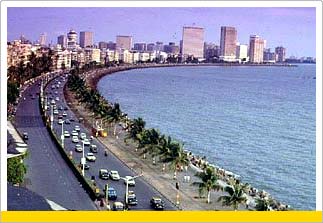 Arrive at Mumbai airport. Met and transferred to the hotel.
Check in and relax for the evening.
Mumbai, formerly called Bombay, is India's commercial hub. It is home to the Bollywood, India's equivalent to the Hollywood.
Day 02 Mumbai
After taking breakfast in the hotel proceed on an excursion to the world famous Elephanta caves. The site has been declared a World Heritage Site by the UNESCO. The site is one and one-half hour drive from Mumbai.
Afternoon sightseeing of the city involves the Gateway of India, the major landmark of the city, Price of Wales Museum, Dhobi Ghat, Marine Drive, Hanging Gardens, Gandhi Memorial Museum and last but not the least the Jain Temple on the Malabar Hill.
Dinner at the hotel. Overnight stay at the hotel.
Day 03 Mumbai / Aurangabad (Flight)
Relax in the morning or visit the local market. Proceed to airport to catch a flight to Aurangabad.
Reach the city and check in at hotel.
There are four principal gateways to the city - the Delhi Darwaza, the Jalna Darwaza, the Paithan Darwaza and the Mecca Darwaza.
Apart from being a historical city the present day Aurangabad is known for its diverse big and small industries, fine silken textiles, and exquisite hand woven brocades of silver and gold fabrics, Himroo of international repute. It serves as the starting point for the world famous caves of Ajanta and Ellora which bears lavish testimony to the excellence of Indian art and sculpture.
Evening visit to the textile factory for Himroo.
Overnight stay at the hotel.
Day 04 Aurangabad
Breakfast at the hotel. Be ready for a full day excursion to Ajanta, one of India's most famous archaeological sites.
The Ajanta caves were created between 2nd century BC to 5th Century A.D. Nestled in the Sahyardi hills these 30 rock-hewn caves were discovered in 1819. They bear testimony to the excellence of the Buddhist art in ancient India.
Return to Aurangabad and overnight stay at the hotel.
Day 05 Aurangabad / Mumbai
Early morning departure for an excursion to the Ellora Caves, the site of world famous Kailashnath Temple. The Temple, chiseled by hand of a massive rock, is dedicated to the Lord Shiva. Built during the reign of Krishna I (757-783 A.D.) of the Rashtrakuta dynasty, this famous rock-cut temple is the witness to the zenith of the Rashtrakuta art.
Return to Mumbai by flight. Take the flight for your ongoing destination.