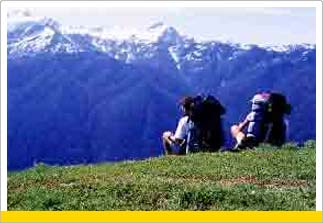 You have often wanted to soar like the birds up in the mountains, but never really had the opportunity. India beckons and you must answer the call.

The foothills of the Himalayas are excellent for trekking. With the captivating landscape, incomparable variety of flora and fauna, trekkers can have a wonderful time. You can make your base camp in some hill station and move up the slopes everyday for either short and easy excursions or the challenges of the snowy peaks. In between you can have spectacular sights of flowers, orchards and much more.

Trekking tours:

1. Ladakh & Zanskar

Ladakh is bordered by the Himalayan and the Karakoram ranges. With its beautiful wild flowers, a large variety of mountain animals and birds, and a hospitable and courteous people, Ladakh is a trekkers' paradise. Your trek can start from the capital of Leh and go on to remote villages and areas in Changtang and Nubra. Nubra is often referred to as the second Valley of Flowers has the best climate in Ladakh.

2. Garhwal & Kumaon

The Garhwal Himalayas has a number of peaks like Kamet, Trishul and Nanda Devi. These peaks along with the rivers, the valleys and meadows make the region so special for trekkers.

In Kumaon, there are three distinct trekking regions: the foothills of the Himalayas of the Nainital district and the lake area; the hill areas of Almora, Ranikhet, Kausani, Chowkori and Pithoragarh: the Himalayan glacier area of the Kumaon hills.

While the Nainital and the lake area is meant for trekking by children, the hill areas of Almora, Ranikhet, Kausani, Chowkori and Pithoragarh are ideal for youngsters. The Himalayan glacier area of the Kumaon hills has more difficult routes.

3. Himachal Pradesh

Himachal Pradesh with the alpine regions of Lahaul and Spiti valley has forests, mountains, rivers and lakes, which offer attractive trekking opportunities. The Kullu and Kangra valleys, and Manali hill station are charming and exciting. The Lahaul and Spiti are completely surrounded by high mountain ranges and the well-known Rohtang Pass leading to the Kulu Valley is there to explore.

4. Kanchenjunga

The mountain state of Sikkim not only has the third highest mountain in the world, Kanchenjunga, it also has a wide variety of rich flora and fauna. Adding to the charms of Sikkim are festivals, which are a treat to watch. The trekking trip begins at Darjeeling in West Bengal.