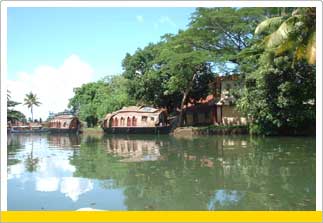 Kerala, in Southwest India is a fascinating holiday destination. India Tours and Travel offers you tours to Kerala and all its attractions. When you travel to Kerala you will travel to a land so beautiful and green that it is called God's Own Country. Kerala is known for its beautiful sandy beaches, serene backwaters and green hill stations. Kerala is famous for spices, in search of which traders and merchants travel to Kerala. Kerala is also one of the best tourism destinations in India. Beach enthusiasts travel to the golden sands of Kerala's beaches where they can enjoy the tropical climate and laze by the Arabian Sea.

The Ayurveda and Yoga resorts of Kerala offer tourists a rejuvenating vacation when they travel to Kerala. Nature lovers enjoy seeing wildlife in the famous wildlife sanctuaries in Kerala such as Periyar wildlife Sanctuary and the Eravikulam National Park and wandering through the green environs of the hill stations of Kerala. Hotels in Kerala offer tourists who travel to Kerala, international standards of luxury along with traditional Kerala hospitality. Experience all this and more when you travel to Kerala with India Tours and Travel.
Tourist Cities in Kerala
Destination Hotels in Kerala
Tour Itineraries

Kerala tourist cities: Kerala has many fascinating cities. Thiruvananthapuram, (Trivandrum) the capital of Kerala is known for its historic palaces of the Raja's of Travancore, the Sree Padmanabhaswamy temple and the Sri Chitra Art gallery. Alappuzha (Allepey) is known for its coir products and for the thrilling snake boat races festival, held here every year just before the festival of Onam. Cochin is a historic port city famous for its Portuguese, Dutch and British heritage. The Jewish Synagogue in Kochi is a historic building, which symbolizes the religious tolerance of Kerala. The Chinese fishing nets in Cochin harbor are another sign of cultural influences being accepted by the hospitable local people. You can experience traditional Kerala hospitality when you travel to Kerala with India Tours and Travel.
Kerala beaches: The beaches of Kerala are famous worldwide. Kovalam Beach in Kerala, India, is very popular with both international and domestic tourists. Consisting of three crescent shaped beaches Kovalam is an idyllic beach paradise. Another famous beach in Kerala is Kappad Beach near Kozhikode, where Vasco da Gama, the Portuguese voyager landed in Kerala in 1498. Other beautiful beaches you will enjoy visiting when you travel to Kerala are Varkala Beach, Marari Beach and Bekal Beach in Kerala, India.
Kerala backwaters: The backwaters of Kerala are a world of serenity and calm. The interlinked network of waterways, lakes, inlets and channels, along the coast of Kerala, lined by green coconut palms and tropical vegetation are known as the Kerala Backwaters. The local residents have used these backwaters for centuries as a means of transport. Now the Kerala Backwaters have attracted attention as a tourism destination. Traditional barges have been modernized and function as houseboats on which tourists can float along the backwaters and have a relaxing holiday in a tranquil environment in Kerala, India.
Kerala wildlife sanctuaries: Kerala has abundant wildlife in its many wildlife sanctuaries. Periyar Wildlife sanctuary is one of the best places to see the Indian Elephant in the wild. The rare Nilgiri Tahr can be seen in the Erivakulam National Park. Other animals such as the Nilgiri Langur, the Malabar Giant Squirrel and birds such as the Malabar Hornbill and the Brahminy Kite can be seen in wildlife sanctuaries, such as the Silent Valley National Park in Kerala. Many varieties of seabirds can be seen along the sea coast of Kerala and at the Vembanad Bird Sanctuary, when you travel to Kerala, India.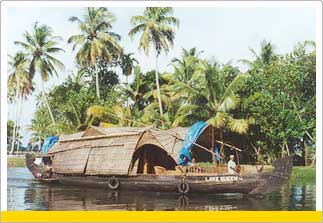 Kerala hill stations: Kerala has a range of landscape that tourists can explore when they travel to Kerala. Apart from beaches and backwaters, Kerala has hills too. The Western Ghats, a scenic mountain range, extends south through Kerala. Hill stations such as Munnar, Wyanad and Idukki in Kerala, are beautiful green destinations famous for their tea, rubber and spice plantations. Nature walks, wildlife treks, mountaineering and rock climbing are activities on offer for adventurous tourists, when they travel to Kerala's hill stations.
Kerala cultural attractions: Kerala has a vibrant culture with people from many religions having lived in Kerala in harmony through the centuries. You can enjoy seeing classical dance performances such as Kathakali and Mohinattam when you travel to Kerala. Kalaripayattu is a martial art of Kerala, which is performed as a demonstration sport. Snake boat races, temple festivals and celebrations such as Onam, Id and Christmas, enrich the cultural life of Kerala. You can share the joy and excitement of cultural attractions in Kerala, when you travel to Kerala with India Tours and Travel.