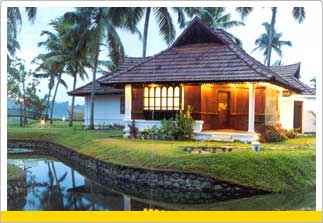 An enchanting picnic spot not too far away from Trivandrum, Kumarakom is a backwater tourism destination, where one can boat, fish and just watch the Kerala countryside. Kumarakom on the Vembanad Lake is fascinating. Interspersed with lush green mangrove forests, paddy fields that stretch out far into the horizon and rows and rows of coconut palms that criss-cross the backwater canals, the little village of Kumarakom is in reality a group of small islands.
Kumarakom Lake Resort Hotel, Kumarakom
Pallichira Post, Kumarakom
From Cochin International Airport: 70 km; Kottayam Railway Station: 14 km; and, Kumarakom Bus Stand: 14 km
The Kumarakom Lake Resort in the heart of the backwaters, is set on 10 acres of lush, green surroundings. The resort has air-conditioned cottages built in the traditional style with private courtyards and open-air baths at the back. In front are the famed backwater canals.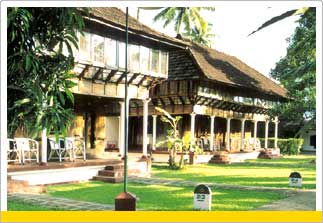 Coconut Lagoon Resort Hotel, Kumarakom
Vembanad Lake, Kumarakom
Coconut Lagoon is not accessible by road.
From Kottayam to Kavaratikara Boat Landing: 10 km by road and then a 10-minute boat ride to Coconut Lagoon; Cochin to Puthenangadi Boat Landing: 45 km by road and then a 25-minute boat ride to Coconut Lagoon; and Cochin International Airport: 95 km
Coconut Lagoon is Kerala in microcosm. Set on the Vembanad Lake, with nature all around and no pollution, Coconut Lagoon is unique setting. It is no wonder that the Resort is highly recommended and Condé Nast Traveller has rated it as one of the 25 best getaways in the world.
Coconut Lagoon has a variety of accommodation, most of them offering fabulous views of the lake. The accommodation might display facets of old world charm but they are all extremely modern in the conveniences and facilities they provide. There is air-conditioning, telephones, hot and cold water but no televisions. The bathrooms are distinct since they are open-roofed yet offering complete privacy.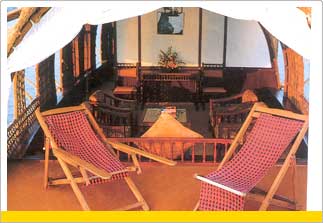 Hotel Taj Garden Retreat, Kumarakom
1/404 Kumarakom, Kottayam , Kumarakom
From Cochin International/Domestic Airport: 115 km; Kottayam Railway Station: 16 km; and, Kumarakom Bus Stand: 16 km
The Taj Garden Retreat on the banks of the Vembanad Lake is also part of Henry Baker's heritage. Known as Baker's Bungalow, the colonial architecture of the retreat has been maintained. Within the refurbished bungalows, the facilities are all top-of-the-line. The picturesque lake and sylvan bird sanctuary nearby make you feel one with nature.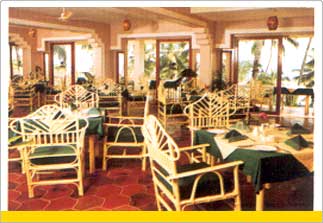 Abad Whispering Palms Hotel, Kumarakom
Lake Resort Kumarakom, New Nazarath Road, Kumarakom
From Cochin International/Domestic Airport: 70 km; Kottayam Railway Station: 16 km
Whispering Palms is set on the banks of the idyllic Vembanad Lake. It is the place where you can relax and enjoy the tranquility all around.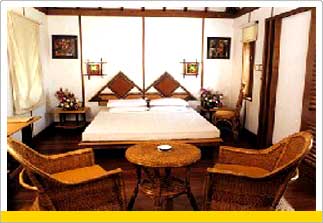 Hotel Golden Water Retreat, Kumarakom
Kumarakom
From Cochin Airport: 78 km; Kottayam Railway Station: 16 km; and, Kumarakom Bus Stand: 1 km
The 17-acre waterfront Golden Water Retreat is set in the midst Kerala's famed backwater canals and is still maintains its virgin flavour. The Resort has history linked to it.
Golden Water's multi-cuisine restaurant, Nalukettu is also done up in a traditional style. The other eatery, Meenkulam, also known as the 'Hook and cook' place, lets you choose the fish from the waters, which is then prepared in front of you.
The Retreat is also known for its Ayurvedic centre, Vaidyasala, which provides rejuvenation massages and much more.
If you are going to Kerala and do not have Kovalam on your itinerary, you do not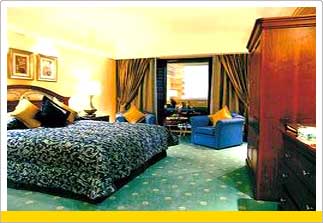 know what you are missing. Kovalam has everything that a tourist can ask for and much more. There is the sun, silver sands, calm blue waters and coconut groves which look as if they were created only for you. One of the most popular beaches of Kerala - in fact, it has been a pleasure haunt of foreigners since the 1930s - Kovalam and its three adjacent beaches provide the ideal locale for sunbathing, swimming, herbal body toning massages, catamaran cruises and even special cultural programmes.

Le Meridien Beach Resort Hotel, Kovalam

Kovalam
From Thiruvananthapuram Airport: 15 km; Railway Station: 15 km; and, City Centre: 13 km.

The Meridien is perfect for both the business traveler as well as tourists. The hotel has a long and exclusive beach where you can indulge in swimming and catamaran rides. The hotel's Ayurveda Centre offers authentic massages. In addition, the hotel holds regular Yoga classes.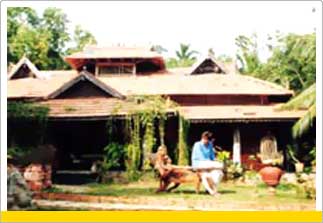 Somatheeram Beach Resort Hotel, Kovalam
Kovalam
From Thiruvananthapuram Airport: 15 km; Railway Station: 15 km; and, City Centre: 15 km.
The Somatheeram Beach Resort has traditionally styled bungalows, built in wood with carved doors and pillars. With names like Sidhartha, Illam and Arappura for the cottages and rooms, the resort is well worth a visit. The Sidhartha is a granite palace with a spacious living room, a bedroom with a huge bed and excellent views. The Illam are traditional Kerala wooden houses. Each house has two bedrooms and a lovely view of the ocean.
The Travancore Heritage Hotel, Chowara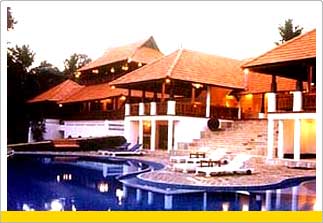 Chowara P.O., Balaramapuram (Vig.), Trivandrum
From Thiruvananthapuram Domestic/International Airport: 16 km; Bus Stand: 17 km; Trivandrum City: 23 km; and, Trivandrum Railway Station: 18 km
A seaside resort set amidst landscaped gardens and coconut groves, The Travancore Heritage is built on a cliff overlooking the Arabian Sea with a wide expanse of silvery white sands in front. The Travancore specializes in Ayurveda and Ayurvedic treatment, well known as the Keraleeya Panchakarma. The resort has its own garden of rare medicinal herbs used for the therapeutic packages such as rejuvenation therapy, beauty care and even an Ayurvedic menu to suit tastes and digestion.
Developed as a heritage property, The Travancore brings to life the traditional Nalukettus or the typical wooden houses with tiled roofs. The accommodation at the Travancore Heritage comprises two pool mansion suites -- ideal for honeymooners -- with private pools, an air-conditioned spacious bed room, a drawing room and a verandah complete with period furniture.