Taj Safari is the joint venture of the Taj Hotels Resorts and Palaces and CC Africa (Conservation Corporation Africa). Taj Safari Lodges provides its guests with unique wildlife experiences, coupled with legendary Taj service, comforts and luxury in India's renowned tiger reserves.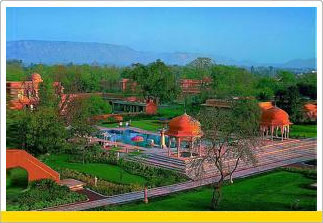 The first in a series of Indian safari lodges, Mahua Kothi, was opened in November 2006 in Indian state of Madhya Pradesh's Bandhavgarh National Park, home to one of India's highest density tiger populations.

Established in 1903, Taj Hotels Resorts and Palaces is one of Asia's largest and finest group of hotels. It comprises 59 hotels in 40 locations across India with an additional 16 international hotels in the Maldives, Mauritius, Malaysia, Australia, the UK, the US, Bhutan, Sri Lanka, Africa and the Middle East. Taj hotels offer an unrivaled fusion of warm Indian hospitality, world-class service and modern luxury.

CC Africa is the continent's leading Ecotourism company and one of the most comprehensive safari operators with exceptional lodges and safaris in Africa's most breathtaking wilderness locations. With over 30 years of tour operating and safari planning in Africa, CC Africa's portfolio comprises 38 high-end private game lodges and camps across South Africa, Kenya, Tanzania, Zimbabwe, Namibia and Botswana.

Madhya Pradesh is also known as the Heart of India for it is located in central India. The state borders Uttar Pradesh, Chhattisgarh, Maharashtra, Gujarat and Rajasthan. It has the rugged ravines of Chambal as well. Madhya Pradesh is known for its one-third of the total forest cover in India where the majestic tiger once roamed unchallenged. It is a multifaceted state that offers incredible wildlife reserves, abstruse temples and palaces, and a fulgurous tradition of arts, crafts and cuisine.

The forests of Madhya Pradesh are a haven for wildlife. Kipling made the Mahadeo hills, home to tropical moist deciduous forests, famous tiger country, but the king of the jungle can also be located in Kanha and Bandhavgarh. The barasingha (deer) can also be found in Kanha.

Taj Hotels and CC Africa offer the first and only unique, Indian wildlife circuit. Situated on the borders of India's world-renowned tiger reserves; Bandhavgarh National Park, Pench National Park, Kanha National Park and Panna National Park.



Mahua Kothi, Bandhavgarh National Park : Mahua Kothi, the first Indian safari lodge, is located in Bandhavgarh National Park. The lodge sprawls over the 40 acre grounds. The original kothi (homestead) comprises the guest areas and has been beautifully renovated. It has 12 charming guest suites, or kutiyas (jungle village huts). These huts are constructed in the vernacular style of Central India, also called 'MP Chic'.

Baghvan, Pench National Park : Baghvan lodge is situated on the edge of Pench National Park, a dry deciduous forest of predominantly teak trees, meandering jungle streams, hills and valleys. The charming lodge comprises 12 suites with beautiful rooftop terraces. Set deep in the wilderness grounds and perfect for sleep outs under starry Indian skies, Baghvan will enchant and enthrall.

Banjaar Tola, Kanha National Park : Taj Safaris' third jungle safari lodge, Banjaara Tola is under construction and will be ready soon. The lodge will be located along the banks of the Banjaar River overlooking Kanha National Park. The atmosphere is light, ethereal and organic. There will be two elegant camps of nine suites, each with its own intimate tented sitting area.

Pashan Garh, Panna National Park : Taj Safaris' fourth in a series of jungle safari lodges, Pashan Garh Lodge will have a cluster of stone cottages huddled atop a small hill, with magnificent views over the forest and a large nearby waterhole, which has been host to numerous tiger and resident antelope sightings. The lodge is located along the Ken River with vast stretches of unspoiled forest and within easy reach of Panna National Park.