Efficiency, comfort, luxury, excellence are synonymous with the Ambassador Hotels. This group of hotels is a perfect example of hospitality and service. The staff here caters to every need of its guests to make their stay comfortable and memorable.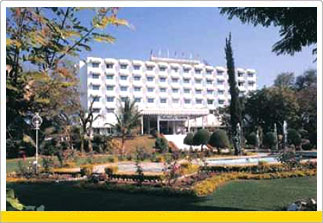 An ideal destination not just for the traveler on a leisure trip but also for the business guests. The Ambassador Hotels take care of the needs of the business traveler to help in making his business interactions a success.

The Ambassador Group of Hotels features world class facilities and renowned cuisines. The lip smacking delicacies prepared in the in house restaurant of this group will definitely leave a tangling taste in the minds of the travelers.

The accommodations in the Ambassador Hotels are a example of luxury. Facilitated with every modern amenity like television, telephone, round the clock room service, air conditions to name a few. All these facilities add to the comfort of the stay here.

Hotels is just a part of the Ambassador Group. They have also triumphed in the flight catering business. They boast of the largest flight catering unit in south-east Asia. Growing pretty fast and dynamically the Ambassador Hotels have added their name in the list of the best hotels around the world.

Some of the known hotels of the Ambassador Group are:



The Ambassador, Mumbai : Considered as the best hotel location in the city, The Ambassador, Mumbai lives upto its name and reputation. Located at a close distance from the business district and shopping arcades this hotel is one of the best places to stay in the city. Facilitated with every modern amenity, The Ambassador, Mumbai has a very informal and relaxed ambiance. The best place for the business traveler the hotel takes care of the business needs of its guests.
The Ambassador Pallava, Chennai : Located at a convenient distance from the airport and railway station, The Ambassador, Pallava is a four star hotel in Chennai. Erected in 1977 this hotel was taken from Sudarshan group in the year 1986. Facilitated with all the basic amenities, The Ambassador Pallava, is a beautifully done up hotel which boasts of some of the best dining facilities.

The Ambassador Ajanta, Aurangabad : Antique artifacts which depict the cultural heritage of India adorn the hotel The Ambassador Ajanta. One of the largest five star hotels it has been in business since 1974. Not just excellent service but this hotel boasts of every modern amenity for its guests. Be it the dining facilities or the business ones, The Ambassador Ajanta takes care of all its guests.