The Le Méridien group is a leading hotel brand in the world and offers a unique flair throughout all its hotels in India.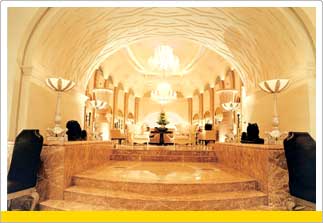 It is one of the known group of hotels in India. Méridien group aims at providing its guests with a truly exceptional experience in each of its hotels in India. To make your tour to India more flexible and exciting we at India tours and travel offer you comfort and luxury at the Le Méridien hotels in India.
With India tours and travel you can choose from any of the hotels of the Le Méridien group.In India Le Méridien group of hotels offer hotels in Delhi, Bangalore, Chennai, Mumbai, Kochi, and Pune. At Méridien hotels in India you would find art of hospitality flourishing in a world of distinction. All the Méridien hotels in India are ideally located and easily accessible.You can also avail the online booking facility with the India hotel packages offered by us.
The hotels run by Le Méridien offer luxury, comfort, world-class amenities, and services for the guests to experience a perfect stay. The business travelers who come on tour to India can look forward to state-of-the-art business facilities. Guests on a leisure vacation can be rest assured for a perfect holiday in India. List of The Le Méridien Group of hotels in India :

Le Méridien Hotel, New Delhi: Le Méridien hotel in New Delhi is conveniently located in the center of the city, within a two-kilometre radius of major central government offices, Parliament House, the Presidential Palace, Rashtrapati Bhawan and the bustling commercial and shopping district of Connaught Place. The hotel offers excellent leisure facilities, high standards of comfort and excellent restaurants.

Le Méridien Hotel, Mumbai: Le Royal Méridien Hotel is strategically situated near the domestic and international airports. Presenting the terrific combination of traditional hospitality and modern technology Le Royal Méridien Hotel is the preferred destination for tourists and business travelers alike. Le Royal Méridien Hotel Mumbai offers 171 exquisitely appointed rooms to its guests.

Le Méridien Hotel, Chennai: Le Royal Méridien Chennai is ideally located with close proximity to both the Airport and the Business Districts of Chennai. This 5-star deluxe hotel with a most impressive lobby is set amidst 3.5 acres of beautifully landscaped gardens and offers its guests a wide variety of facilities combined with a high level of personalized service.


Le Méridien Hotel, Bangalore: Located in close proximity to the city's shopping and business centers, Le Méridien Bangalore overlooks the golf course, offering a panoramic view of the Garden City. With selective accommodation for the corporate traveler at Le Royal Club, varied cuisine at a choice of restaurants and excellent services, it is a fine blend of business and leisure.

Le Méridien Hotel, Kochi: Le Méridien is nicely placed in Kochi, the commercial capital of Kerala and fast growing business center in the country. This city of Kerala is blessed with ample greenery and tranquil landscapes. Nestled in this God's Own Country is Le Méridien Kochi, presenting a spectacular view of the natural backwaters. Le Méridien Hotel is a great choice for those looking for either business or break or both.

Le Méridien Hotel, Pune: Le Méridien Pune is the first five-star deluxe property in Pune. Its distinctive, Indian palace-style architecture is awe inspiring, subtly blended with contemporary charm. The hotel is ideally located in the heart of the city and just 15 minutes from the airport.