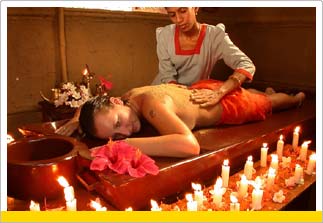 Today, if the world knows about Kerala as a tourist destination, part of the reason lies with the well-known stress releasing therapies of Kerala's famed Ayurvedic resorts and centres. The climate along with the blessings of nature has turned Kerala into the ideal place for Ayurveda's curative and rejuvenation programmes. Kerala has always practiced the traditional method of treatment and today it is recognized the world over as the only place where authentic Ayurveda tour is practiced with sincerity and dedication
Believed to have begun in India around 600 BC, Ayurveda comes from two words: Ayur meaning life and Veda signifying the science of knowledge. The science and art of Ayurveda tours is often termed as Asthanga Veda or eight specialized branches of knowledge and it is all about having an idea of the dos and don'ts to be followed to lead a healthy life, both physically and mentally. The ancient medical system emphasizes the prevention of diseases as well as methods of curing them.Tour of Ayurveda believes in the treatment of not just the affected part, but the individual as a whole.
The eight branches of this traditional form of healthcare are: Kaya Chikilsa or General Medicine; Kaumara Britya or Paediatrics; Graha Chikilsa which is Psychiatry and psychosomatic diseases; Shalakya Tantra or the diseases of eye, ear, head, nose, throat and related surgical procedures; Shalya Tantra or General Surgery; Agada Tantra or Toxicology; Rasayana Chikilsa or Rejuvenation Therapy; and, lastly, Vajeekarana Chikilsa or Aphrodisiac Therapy.
Through these eight branches, Ayurveda seeks to implement cures by establishing a condition through a complete knowledge of healthy living. The first things that an Ayurvedic physician points out to a diseased person is that wrong behaviour and food habits disturb the natural harmony of the body, which in turn leads to diseases. The basic principles of treatment in Ayurveda tour in India, then is to eliminate the causes of the disease. The therapies used are the synchronized massages, steam baths, Njavarakiszhi, Pizhichil, Sirodhara, Udwarthanam, Sirovasthi, Kadidhara, Thakaradhara, Elakizhi, Tharpanam and Choornaswedam.
The synchronised massages are prescribed for improving blood circulation, prevention of muscle inflammations, obesity and pains in the body, fatigue and the development of muscles. Medicated oils are used by experienced masseurs for the massages. The steam baths are meant to cure neurological ailments, rheumatism, pains in the back and body, arthritis and skin diseases. The process is to make the afflicted person perspire through the application of medicated steam all over the body, except the head.
To experience the magic of the traditional science of Ayurveda, you have to take a trip to the green pollution-free environment of Kerala's Ayurvedic resorts. The Ayurveda tours are so designed that the visitor returns home completely refreshed and energized. There are a wide variety of programmes like the week-long rejuvenation package meant to cure fatigue and weariness to the two-week long session for joint pains and insomnia.