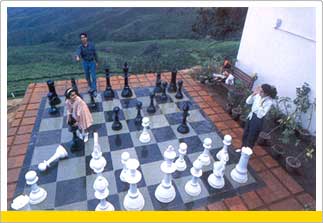 Munnar wants to remain exclusive and secluded. That is exactly how you will find the quiet, lush green resort in the hills of Kerala. Just a little over 130 km from Kochi, Munnar in the Kannan Devan Hills is a picture postcard country with low-flying clouds, misty valleys, lakes, rolling tea gardens hugging the mountain sides and lots and lots of greenery all around. Add to that the cool climate and you have a perfect getaway all ready to welcome you into its open arms.
Club Mahindra Lakeview Hotel, Munnar
Munnar
From Cochin International Airport: 80 km; Kottayam: 20 km; and Cochin City: two hours by road.
Hotel Club Mahindra Lakeview Munnar is in a picturesque setting among mountains and is constructed in Raj style architecture with large, ornate rooms. Each of the five star property's 93 rooms, suites and cottages offer wonderful views of the mountains, the tea estates and hill-top villages and peaks cloaked in mist.
The hotel has a multi-cuisine restaurant featuring Indian, Chinese, Tandoori, Continental, Mexican and authentic Kerala dishes. The chefs are experts in their trade and can cook up a personalized meal for anyone who desires something different.
Best Western Fort Hotel, Munnar
Near Anayirangal Lake, Munnar
From Cochin International Airport: 115 km; Railway Station: 130 km; and, Bus Stand: 15 km
The luxurious Best Western Fort overlooks the Anayirangal Lake and offers a wonderful view of the coffee, tea and cardamom plantations. Conceived with the eco-friendly traveler in mind, the hotel's colonial architecture blends with the surrounding tall trees, the hills and greenery all around.
The hotel has a 24-hour coffee shop, Coffee Caza, which overlooks the Anayirangal Lake. The multi-cuisine restaurant, Royal Dine, serves Indian, Chinese and Continental cuisine. With its colonial décor, the food at the restaurant is served with flourish. There is also a roof-top restaurant, Dew Drops, which provides diners with the sensation of floating in the middle of the valleys, mountains and lake.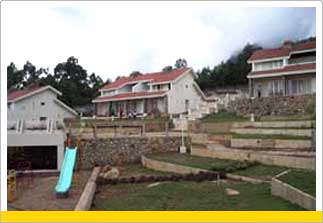 Siena Village Hotel, Munnar
Chinnakanal, Munnar
From Kochi Airport: 130 km; and, Munnar: 18 km
The Siena Village is set beside the Anayirankal Dam and is a perfect holiday destination. The hotel offers a choice of standard and deluxe rooms. Each of the rooms has wonderful views of the mountains all around. The rooms are tastefully done up with wall to wall carpeting, rich wooden floors, private balconies and cozy lounges. The deluxe rooms have the added advantage of a fireplace to fight the coldest nights. All the rooms have geysers, 24-hour satellite television, refrigerators and coffee makers.
The Village's in-house multi-cuisine restaurant, The Peppermill, serves Indian, Continental and Kerala cuisine. In addition, the resort's has an outdoor barbecue, The Grill, which serves tandoori delights.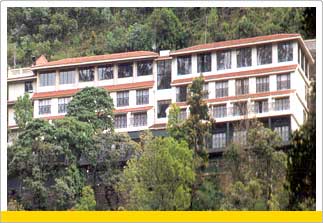 Copper Castle Resort Hotel, Munnar
Pothumedu Road, Kannan Devan Hills, Munnar
From Cochin International Airport: 80 km; Kottayam: 20 km; Cochin City: two hours by road; and Munnar: 2 km.
Abad Copper Castle Resort with its 38 rooms and suites is a veritable pleasure house. The hotel has facilities for Baby Sitting, a bar, a coffee shop, a fitness centre, Internet and multi-cuisine restaurants. The air-conditioned rooms have in-house movies, refrigerators and mini-bars.
Tea County Hotel, Munnar
Munnar
From Cochin Airport: 120 km; Kodaikanal: 90 km; and, Alwaye Railway Station 110 km
The cottages in Tea County are designed like the luxurious rooms of the plantation bungalows in Munnar. There are 43 deluxe rooms with 24 hour room service. A coffee shop and a restaurant with a dancing floor and a bar is always at your service. The hotel also specializes in Ayurvedic herbal body toning massage at the Age Halt and its Ayurvedic rejuvenation packages and exclusive monsoon rejuvenation holiday packages of one to 14 days duration are attractive.
Hotel Sterling Day's Inn, Munnar
Munnar
From Cochin International Airport: 80 km; Kottayam: 20 km; Cochin City: two hours by road.
Sterling Day's Inn in Munnar offers hospitality and service with a wide range of accommodation options. There are studios, single bedrooms and double bedrooms and most of the units have a kitchenette and telephones.