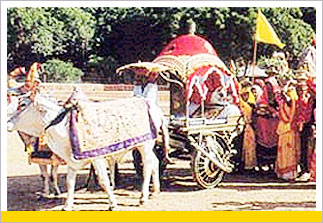 Marwar Festival
Where: Jodhpur
When: September-October
Duration: Two days
The Marwar Festival is held to commemorate the heroes of Rajasthan who laid down their lives in defending this land and who did great service to keep its glory intact. It is celebrated in the Hindu month of Ashwin, which corresponds roughly to September-October. The venue of this festival is Jodhpur, capital of the princely state of Marwar.
Formerly known as the Maand Festival, the main aspect of the festival is folk music highlighting the romantic, profligate lifestyle of the rulers of Rajasthan. Centered on the dance and music of the Marwar region, the festival offers opportunity to interact with the folk dancers and singers who throng here and provide wholesome amusement. These singers usually sing the exploits of the past heroes. The vividness of the daily life, the legends of Rajasthani heroism and romance are all captured in their pulsating and redolent music.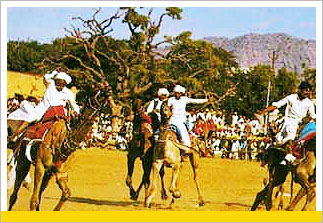 Pushkar fair
Where: Pushkar
When: October-November
Duration: Twelve days
One of its most unique fairs of its kind in the world, Pushkar Fair is held in the first lunar cycle (New moon to full moon) in the Hindu month of kartik, corresponding roughly to October-November, culminating on the full moon. This world famous camel fair is held in the holy and calm town of Pushkar, which is situated in Rajasthan, the most exotic and colorful part of India. It is converted into a fabulous fair ground for twelve days. The fair is also frequented by the pilgrims in large number.
Thousands of pilgrims throng here to take a holy dip in the waters of the Pushkar Lake. Trading of cattle, camel races and dazzling displays of brassware, clothes, bangles, camel saddles and halters are the major highlights of this colorful event. The place is also famous for the only temple in the world dedicated too Brahma, one of the trinity of Gods.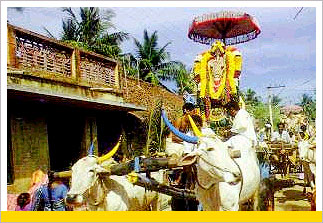 Makara Sankranti or Pongal
Where: India
When: January 14
Duration: One day
This sacred day marks the commencement of the Sun's journey to northern hemisphere. It is interesting to note that this is most probably the only Hindu festival that follows a solar calendar and is celebrated on the fourteenth of January every year. All other Hindu festivals are computed using the lunar calendar).
Sankranti is also know as Pongal in Tamil Nadu, and is celebrated with much fervor and gaiety. Kolams (Rangoli) and prayers are the highlights of this festival. The farmers worship their harvested crops and share joy and happiness with friends and relatives.
However, the Sankranti is celebrated in myriad ways depending upon the area of the country. In Hindu belief, a person dying on this auspicious day directly goes to the heaven. Bhishma of the Mahabharata fame is said to have waited for this day to breathe his last. It is also on this day every twelve years the Great Kumbh-Mela is held at four different places in India.