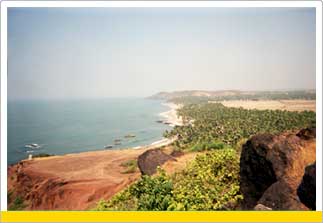 Are you exhausted? We have just the medicine for you. Take a dose of Goa and repeat it twice or thrice a day and at the end of three days you will start feeling better. Welcome to Goa, the land you only dream of. Play, hide away from the world, honeymoon, or meet someone new -- Goa will give you everything. This the place where honeymooners and couples can create lasting memories and families can share special times together. Parents can enjoy a quiet vacation while the kids have a party of their own. No matter who you are, all the stress will start fading away as you step on to the Goan beaches. Suddenly, colours start appearing richer than they really are and you can watch them as long as you like for time is at your command in the pleasant surroundings of Goa.
As for accommodation, Goa has a wide variety: from the top-of-the-line to the cheapest. Click away to find out which beach in Goa would suit you. Or, better still, book your next plane ticket for sunny Goa.
ANJUNA BEACH
One of the most famous of beaches in Goa, Anjuna is where the party never ends. Besides the beach there is the Wednesday flea market where you can buy anything from bikes to handicrafts. Spend your mornings and noons on the beach and as the sun sets, get ready to have a party.
Anjuna is always filled with tourists but it is one place in Goa which maintains its charm and beauty. Are you ready to be mesmerized by Anjuna's charms?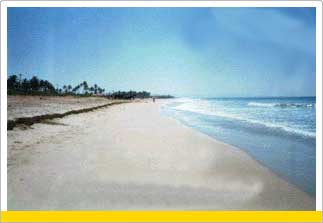 BENAULIM BEACH
Located just south of Colva, Benaulim has myths associated with it. This was the place where Parashuram's arrow landed and created the wonderful land of Goa.
All around the little village surrounding Benaulim beach is famous for handicrafts. However, a word of caution. Do not expect too much from Benaulim because there are not too many resorts or hotels around. That makes Benaulim good for a day visit from Colva. For a beach trip to Benaulim, take a bus or taxi. Better still, hire a bike and explore it at your will. However, what is important is that the beach offers you privacy. Even the parties at night are private and the only way you can attend one is to organize one yourself or be invited.
CAVELOSSIM BEACH
Cavelossim beach cannot be missed for anything in the world. One of the cleaner beaches, Cavelossim has a few shacks on the beach itself. As for accommodation, there are a number of resorts including the five-star Leela Palace.
Cavelossim is good for dolphin-watching at night, and most hotels can make arrangements for night boat rides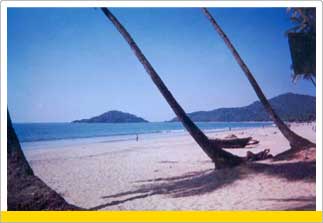 PALOLEM BEACH
One of the most beautiful beaches in Goa, Palolem may be crowded but if you move out away from the people, you could certainly find a place quiet enough to read a book. Palolem, however, has few staying places and you would have to spend the night in one of the huts on the beach. These beach huts are owned by villagers who ensure a comfortable stay. Palolem too, offers dolphin-trips, which are definitely worth trying.
ARAMBOL BEACH
This is one of the remote beaches in Goa, yet it manages to attract a large number of people. Blessed with natural beauty, Arambol has few places to stay. So the best way to see Arambol is by day.
The main beach at Arambol is good for a swim, but as you walk down the beach you will come across small fresh water pools where you can float and relax. Or, you can give yourself a mud-bath since the mud near the pools is considered to be medicinal.
BOGMALO BEACH
Bogmalo beach is special because it is near the airport and home to the five-star Park, a Bogmalo beach resort.
A quiet beach, Bogmalo may be expensive for many but it is worth the experience. What is so special about Bogmalo is that there are a large number of eating shacks on the beach which serve exquisite Goan cuisine and the famous Goan liquor, Feni.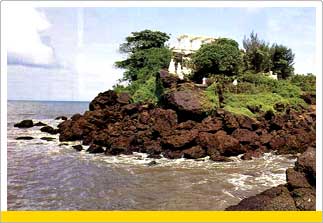 DONA PAULA
Anyone who visits Goa, must take a look at Dona Paula. Locals consider the beach haunted but that only adds to the excitement of the trip to Dona Paula.
The beach is named after Dona Paula de Menzes, the daughter of a viceroy in colonial India. When her father refused her permission to marry a local fisherman, Gaspar Dias, Dona Paula jumped off a cliff and died. Dona Paula is buried in the Cabo Chapel of the Raj Bhawan or the Governor's house and is believed to emerge from the moonlit waves wearing only a pearl necklace. The story attracts a large number of tourists to Dona Paula. The beach offers a wide choice of water sports ranging from water-scooter to cycle to motorboat rides. Other water sports include windsurfing, parasailing, water-skiing, toboggan ski-biscuit, skibob, sports fishing, snorkelling, harpoon fishing, kayaking, and yachting.
Near Dona Paula is the National Oceanography Institute, which has a wealth of information on marine biology. The place is also famous for the Salim Ali Bird Sanctuary, where you can see migratory and local birds.
COLVA BEACH
Colva gained popularity with the influx of foreigners in Goa. Just a few years ago, Colva was a small village of fisherfolk. The tourists came because Colva provided natural beauty.
Today, there are a large number of hotels and guesthouses in Colva. Somewhere on the beach you will be able to see the fisherfolk busy with their work. The beach has fishing boats, which seem to be ready to take a trip to the sea. The fishermen are happy and easy-going and many of them could even offer you a ride on their fishing trip. You will find most of the tourists and petty shopkeepers at one end of the beach. The other side is relatively free and quiet - so quiet that you could hear nothing but the wind and the crashing of the waves. Relax on the beach and see the sun setting. It is worth the experience.
BAGA BEACH
Baga and Calangute are close to each other. So if you are planning a trip to Baga, then you could also get to see Calangute. Baga also has a flea market which is held every Saturday evening. Though the market may not be as famous as the one in Anjuna, locals cannot do without it. Baga has facilities for water sports: from gliding to para-sailing to fast motorboats.
It is difficult to find staying places for singles in Baga but the beach houses are adequate enough to take care of loners. The beach also has shacks which serve home-made Goan food and Feni.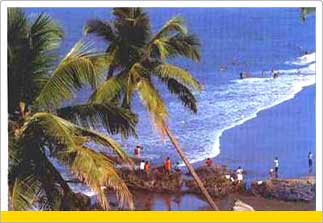 CALANGUTE BEACH
Calangute is possibly one of the most crowded beaches in Goa. But that should not deter you from exploring the place since there are some of Goa's best restaurants. The road connecting Calangute and Baga is chock-a-block with eating places serving all kinds of cuisines. Calangute offers watersports, yoga, reiki, meditation and karate.
VAGATOR BEACH
Vagator beach has a charm and beauty of its own. Lined with coconut and palm tress, the beach is home to simple fisherfolk. It is easy to visit Vagator because any bus that takes tourists on a sightseeing trip of Goa invariably winds up at Vagator. The nights at Vagator beach are like those at Anjuna, full of parties. There are many bars and restaurants which seem to wake up as the sun sets. Vagtor beach has a number of shacks and beach huts where you can get basic facilities for a night stay and food. Away form the beach, however, there are many hotels and guesthouses.