Home >> Mohabbat the Taj
Mohabbat the Taj
Taj- in its real splendour….…. the effort to hold up the cultural and historical legacy of India is worth a glance. So, be with us to witness the Indian heritage come alive.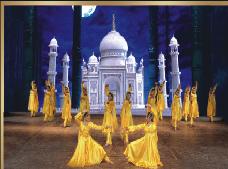 The newly created world's largest replica of Taj Mahal in Makarana Marble will showcase the true & immortal love of Shah-e-Jahan for his beloved wife, Mumtaz Mahal, the lavish lifestyle of mughal era, through song and drama spectacle supported by latest gadgetry, audio-visual technology.

As seeing the Taj Mahal by moonlight was long considered the ultimate for the romantically inclined till security considerations made it next to impossible, now one can relish exclusive glimpse of the master creation in its various and vibrant moods during a sound and light show. Laser beams dancing all over the monument add to the ethereal experience.


To build the replica it took seven years of chiseling and carving by 28 craftsmen and designers to re-create a perfect replica of the Taj Mahal, the world's biggest model in pure white Makarana marble. The workmanship and stone inlay work closely resemble the original which took 22 years of craftsmen which created the most precious specimen of craftsmanship…

Experience the breathtaking live shows presented by performing artisans depicting the era in time… 'Through exciting and innovative presentation of a song and drama spectacle involving 60 artists, who depict the Braj culture and the ambience of the Mughal era". The 90 minutes show may be enjoyed in eight different languages including Hindi and English, the viewers can select any one of their choice, just click a button and listen to the presentation in your choice of language.

Mohabbat the Taj, depicting the saga of love is now operational daily at "Kalakriti Cultural & Convention Center" with a comfortable sitting arrangement of 585 seats.

The show timings & ticket price* given below for your ready reference:

First Show :      18.30 to 20.00
Second Show :  20.30 to 22.00

Prices in Euro
Platinum : 22
Gold : 12
Silver : 6

Prices in USD
Platinum : 25
Gold : 19
Silver : 10

*Above mentioned show timings & ticket prices are subject to change

We at "Travel Spirit International" take you to witness the magical appearance of Taj Mahal on the stage. For booking & more information, kindly send us an email at tsi@tsimails.com