Home >> Incentive Tours in India
Incentive Tours in India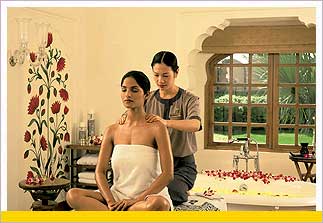 Incentive tours are a recognition of your positive effort in contributing to the success of your firm. India Tour and Travel offers exclusive incentive for rewarding and inspiring deserving individuals who have made exceptional contributions and helped their organization achieve success.

India is a wonderful destination for incentive tours. Some of the Incentive tours in India that you can experience are:


Enjoy an unforgettable beach vacation on the beaches of Goa or Kerala in India. Holiday in a beach paradise with soft sand, golden sun and blue sea.


Indulge yourself at a luxurious palace hotel in Rajasthan, and be treated like a Maharaja as on your tour to India.


Visit the amazing Taj Mahal, in Agra India. Built by the Mughal Emperor Shah Jahan for his queen, Mumtaz Mahal, the Taj Mahal is recognized worldwide as a monument to everlasting love.


Have a rejuvenating holiday at an Ayurveda spa and feel the relaxing effects of the therapies of Yoga and Ayurveda on your Incentive Tours in India.


Enjoy a camel ride across the rolling sand dunes in Rajasthan or ride an elephant up to Amer Fort and imagine you're a royal ruler from yesteryears.


Take a trip on a luxury train in India and journey in regal splendor on the Palace on Wheels on your Incentive Tours in India.


Explore a forest in India and observe tigers, elephants and rhinos in the wilderness, on Incentive Tours to India.


We customize programs that combine exclusive activities, unforgettable theme parties, well-selected hotels, restaurants and unique venues that reflect local culture in an amazing fashion. The end result is a once in a lifetime experience that participants will always remember...

You will find the landscapes stunning and the people friendly. Our team, from to the event managers, the chefs, the entertainers, to the hotel porters and the coach drivers will all go that extra mile to make your trip truly outstanding. We provide creative and imaginative programs carried out effectively and efficiently with an Indian charm. In this land of colorful contrasts, we perform miracles on request. India Tours and Travel invites you on amazing Incentive Tours in India.

An incentive tour to India is a lifetime experience. India is an ideal destination for an incentive tour whether it is North India or South India.

India is one of the most amusing tourist destinations on each and endless room for travelers coming from worldover. It's each part is different; from Forts and Palaces of the North India, temples of the West, evergreen hills of the North East and backwaters and beaches of the South – there is much to offer to the traveler to make their trip most memorable. The Indian Bazaars offer you a variety of arts & crafts, silks, brocades, carpets, carvings in wood, stone & ivory, dazzling Jewellery & much much more.

We at TSI, are specialized in handling all kind of Incentive tours & have a team of professionals who are specialists and have vast experience in handling of Incentive tours and have the know-how of the needs of travelers.

We can also arrange theme parties such as Mughal Evenings in Agra or Royal Rajasthani evenings in Samode complete with a royal reception, traditional cuisine & spectacular fireworks, Gala Sand Dunes Experience in Jaisalmer, Gangaur Boat Cruise at Udaipur, Maharaja Welcome or Mock Wedding at Jaipur are the few from the long list in North of India.

Whereas in South India one can experience the Fisherman Theme evening at Cochin or Marari, Kerala Theme evening at Cochin etc.

Suggested Cities
To make your visit to India very special, we provide below special activities at the dream destinations apart from the normal city tours.

Delhi
The capital of India and its third-largest city, Delhi blends an historic past and a vibrant present. It is the second most widely used entry point into the country, the hub of the north Indian travel network, and a stop on the overland route across Asia.

1.Rikshaw Ride at Chandni Chowk.
2.Visit to Akshardham Temple with evening Tea & Snacks.
3.Silver Thali Dinner (Theme) where you will be welcomed warmly, in true Indian Style. You can then head for the "Dastarkhwan". Relish the bounty at low dining table laden with food from various Indian provinces, served in Silver Platters.

Jaipur
The vibrant capital of Rajasthan, is popularly known as 'the pink city' for the colour of the buildings in its wonderful old city. Notable attractions include the much-visited Hawa Mahal, Jantar Mantar, the famous observatory, City Palace Museum and the Amber Fort.

1.Elephant Ride to reach on the top of Amber Fort.
2.Camel Ride near Jal Mahal palace.
3.Royal Welcome at City palace (Maharajas Palace)
4.Evening Gala dinner with Royal family (subject to availability or schedule of His Highness)

Agra
Agra, home to the Taj Mahal, undoubtedly the most extravagant monument of love ever built. Long, the capital of the mughal empire Agra is studded with outstanding monuments of that era, notable among them are the Agra Fort and the city of Fatehpur Sikiri.

1.Visit of Taj by Camel / Horse cart ride
2.Magic Show during dinner.
3.Mughal Theme dinner: Slip back into the grandeur and flitter of the Mughal era. Where you can sit down to Flamboyant dances and row upon row of sumptuous Moghlai delicacies served in a manner befitting royalty.

Udaipur
Possibly no city in Rajasthan is Quite as romantic as Udaipur. The French Impressionist painters, let alone the Brothers Grimm, would have loved this place. It's not without justification that Udaipur has been called the Venice of the East: the old city is a jumble of tangled streets.

1.The Gangaur Boat Cruise: Take a tranquil ride in the antique royal barge of the House of Mewar. Under a canopy of stars relish Mewari specialties favoured by the Maharanas of Udaipur as you circle the mystical Lake Palace hotel.
2.High Tea at Crystal Gallery.
3.Visit of Vintage Car museum.
4.Dinner at Jagmandir Island Palace or Dinner with Musical Performance at Manek Chock at City Palace.

Samode
The history of Samode goes back four hundred and fifty years to the time of the illustrious Prithviraj Singhji of Amber, the seventeenth prince of the Kacchawaha Rajputs. One of his twelve sons, Gopal Singhji, was awarded Samode, a noble feudatory of the Jaipur principality.

1.Cocktail Welcome
2.Village Camel Cart Safari followed with lunch at the poolside with traditional music, song, dance and food allow you to taste a little of the local cultures as well as the days of Royal India.
3.Gala dinner with Palace Lit up & fire works which makes your evening very special.

Jodhpur
Built 541 years ago, the city of Jodhpur stands victoriously on the edges of the Thar Desert, having withstood the ravages of time. Rich in history, culture and tradition, this city has an old-world charm which gracefully co-exists with its emergence as a major commercial centre.

1.Guided tour of Mehrangarh Fort & other places of interest.
2.Evening ready for the Sand dunes Experience: History whispers in Jodhpur's Forts, Havelies and temples. But there are stories lurking in the stretches of the Thar Desert. So take a camel cart ride to sand dunes lit gold by 'mashaals' (lighted torches) and bonfires. Then in the shelter of tents and an even bigger canopy of stars sip a welcome drink while 'Langas' and 'Kalbeliyas' serenade your with Rajasthani dance and music. End an idyllic evening with a barbeque dinner and fireworks.

Important Note: There are many other wonderful destinations with lot of special activities which can be planed according to your interest.

Suggested Itineraries

TSI / Incentive / 01 Golden Triangle
Duration: 6 nights / 7 days
Places Covered: Delhi / Agra Jaipur

TSI / Incentive / 02 Royal Rajasthan
Duration: 10 Nights / 11 days
Places Covered: Delhi / Agra / Jaipur / Samode / Udaipur / Jodhpur / Delhi

Note: This itinerary can be extended from Jodhpur onwards to Mumbai & then to Kerala to see the nature in its full swing and also the scenic backwaters of Kerala.