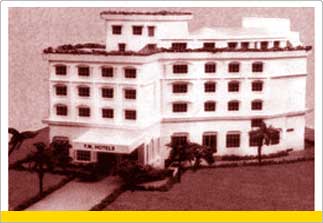 The Varanasi of the South. That is Kanchipuram's claim to fame and deservedly so. The small town, which is the centre of south India's flourishing silk sari industry, is like any other Indian town except that it is a major centre for philosophy and learning. Kanchipuram ancient temples either dedicated to Vishnu or Shiva, were constructed by the Pallava kings who ruled between the 4th and 8 th century AD, are magnificent. The city has been the seat of the Shankaracharya.
T M Hotels, Mahabalipuram
487, Gandhi Road
From Chennai: 72 km; Mahabalipuram: 65 km
TM Hotels makes you feel at home. With its 36 well-appointed rooms, which includes 3 suites, the hotel is homely and comfortable. The rooms have attached baths with hot and cold water, central air-conditioning with individual temperature control, 24-hour TV with satellite channels, direct dialling telephones, laptop connectivity, doctor on call, same day laundry service and safe deposit lockers. The hotel has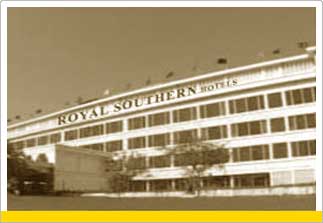 an exclusive vegetarian restaurant, Dakshin, which serves authentic north Indian and south Indian cuisine while the other restaurant, Royal Spice serves multicusine non-vegetarian delicacies. The hotel's bar, Cellar, is well-stocked.
Royal Southern Hotel, Mahabalipuram
Srm Nagar, Kattankulathur
The Royal Southern is a deluxe hotel set in a charming locale. On the banks of a blue lake, the hotel has 36 rooms that are equipped with all modern amenities.
The hotel is within a 40 km radius of Mahabalipuram, Kanchipuram, Vedanthangal Bird Scantuary and India's biggest Theme Park Khiskintha as well as Zoological Park, which is a few minutes away. The hotel organizes horse riding and indoor/outdoor games.
The little seaside town of Mamallapuram or Mahabalipuram, an hour's drive from Chennai, has a 20 km long beautiful beach. The town is historical: it was established in the seventh century. There are a lot of sites to see: the rock-hewn temples and the world's largest stone bas-relief, a crocodile farm, snake venom extracting centre, schools of art and sculpture and a lot more. In addition, the beach has many resorts which draw a large number of tourists. The small town also witnesses many visitors during the annual dance festival held every year in December and January.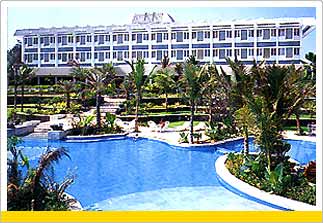 A recent development has been the establishment of amusement parks between Chennai and Mamallapuram.
Fisherman's Cove Hotel, Mahabalipuram
Covelong Beach, Chingleput
From Chennai airport: 32 km; Chennai city centre: an hour's drive
Conforming to the highest international standards, Fisherman's Cove offers a wide choice of accommodation and guests can choose from the 38 cottages and 42 rooms. The rooms with views of the palm-fringed beach and the Bay of Bengal are all centrally air-conditioned. The facilities available for guests include a safe deposit locker, currency exchange, travel desk, car rental, shopping arcade, doctor-on-call, babysitting.
Guests can avail of 24-hour room service and same day laundry.
The resort has a restaurant, an outdoor barbecue, bar and facilities for water sports along with Aurvedic Massages, tennis and outdoor games.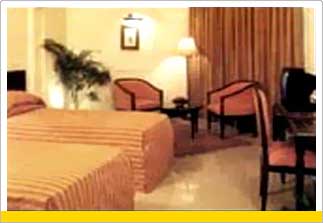 Ideal Beach Resort Hotel, Mahabalipuram
Mahabalipuram
From Chennai airport: 35 km; from Chennai City centre: 50 km
The Ideal Beach Resort is a man-made luxuriously-designed resort with large cottages providing privacy and comfort. Each room provides views of the beach and the sea. The rooms are all centrally airconditioned with cable TV, direct dialing telephone, channel music, attached bathroom with shower and bathtub. The beds in the rooms are king-sized.
The food at the resort's restaurant spans Indian, Continental, Chinese and Srilankan specialties in sea food like crabs, lobsters and a wide variety of fish, straight from the nets of the local fishermen.
The resort has a bar, a swimming pool, a conference hall and money changing facilities. The hotel has an outdoor barbecue facility and guests can avail of indoor and outdoor games.
Quality Inn MGM Beach Resort Hotel, Mahabalipuram
1/74 New Mahabalipuram Road
From Chennai airport: 35 km; Chennai city centre: 25 km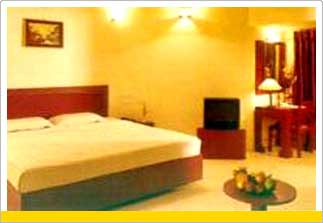 The Quality Inn MGM Beach Resort is one of the most luxurious beach resorts in southern India. The suites are luxurious and provide views of the sea, the lake or the garden. The rooms are specially designed to ensure every comfort for the guests, including a private shower that is open to the skies. The resort is centrally air conditioned with cable TV, direct dialing telephone, channel music, mini bar, work desk, radio, clock, safety deposit locker and hair dryer. There are special facilities for children with carrom, pool tables and an amusement arcade.
The resort's multicuisine restaurant serves Indian, Chinese, Continental and Mughlai food.

GRT Temple Bay Hotel, Mahabalipuram

From Chennai airport: 25 km; Chennai city centre: 20 km

The GRT Temple Bay has 72 deluxe cottages/rooms on the seafront, fully equipped with modern amenities like air-conditioning, 24 hour hot and cold water, refrigerators, color TV with satellite/cable connections, telephone and room service. The resort serves a choice of cuisines to suit different tastes at its Waterfront Café. The trendy sea front bar High Tide has a panoramic view of the swimming pool, landscaped gardens and the ocean.
Temple Bay is designed with beautifully landscaped gardens, a luxurious swimming pool, a vast expanse of lush lawns and a virgin beach. Guests are provided facilities to play beach volleyball, table tennis, carrom and chess while children have a special playing area.

Golden Sun Beach Resort Hotel,Mahabalipuram

59 Covelong Road
From Chennai airport: 58 km; Chennai city centre: 50 km

Forget appointments, deadlines and phone calls when you come to the Golden Sun. The resort has been specially designed to make guests feel one with nature. The wide range of accommodation include cozy cottages on the seashore with green lawns, trees and hammocks. The resort also has rooms with attached baths with running hot/cold water, channel music and intercom, same day laundry and dry cleaning services and money exchange facilities. The resort stages cultural programmes on request of the guest. The resort's multi-cuisine restaurant serves Continental, Chinese, south Indian, north Indian, Gujarati and Rajasthani food.