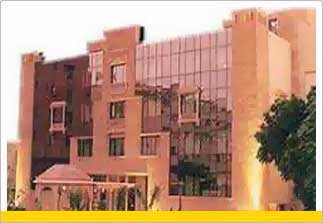 Hotel Mansingh Towers, Jaipur
From Airport: 14 km; Railway Station: 1 km; City Centre: ½ km; and, Secretariat: 2 km
The Hotel Mansingh Towers has 45 elegant rooms and eight deluxe suites. All are centrally air-conditioned Jacuzzis have been placed in all the suites. The hotel has a multi-cuisine restaurant as well as a well stocked bar. The hotel has a gym, a swimming pool and health club.
Hotel Samode Haveli, Jaipur
Gangapole
The Samode Haveli is in the middle of the walled city of Jaipur. The hotel used to be a royal residence once upon a time and its rooms reflect the grandeur and luxury of those days. The Samode Haveli was built by Rawal Sheo Singhji, a Prime Minister in the Jaipur court.
Its ideal location in the walled city makes it a convenient place to stay for the leisure travelers. It has 20 comfortable and spacious rooms.
Hotel Chokhi Dhani, Jaipur
From airport: 6 km; Railway Station: 18 km; and Bus Stand: 18 km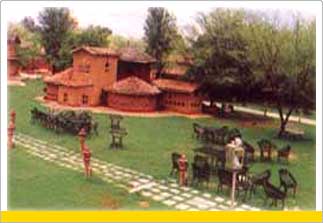 Chokhi Dhani is the ethnic village resort in Jaipur. The resort with the ambience of a typical Rajasthani village, offers Five Star comforts. The resort has 31 Village Huts and 34 Executive Huts, each of them well equipped to provide comfort with modern amenities.
The evenings at Chokhi Dhani are special for a village fair is staged on the sprawling grounds. Traditional Rajasthani cuisine is served while folk dancers and musicians entertain. However, the menu also includes Mughlai, Continental and Chinese cuisine.
For those who want other forms of entertainment, there are billiard tables, table tennis, darts and chess in a bamboo house. Besides, there is a health and fitness centre with Kund, a sunken swimming pool, steam and sauna baths, jacuzzi, gym and massage facilities.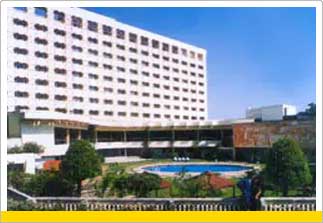 Clarks Amer Hotel, Jaipur
From airport: 2.5 km; and, Railway Station: 12 km
The first five-star hotel in Rajasthan, Clarks Amer is India's first ISO 9001:2000 certified Five Star Hotel.
Hotel Clarks Amer has 202 elegantly furnished guest rooms. These include 84 deluxe doubles, 116 standard doubles and two suites. The hotel has a multi-cuisine restaurant, Dhola Maru, the Durbar dining hall, Surahi Bar, Jharokha, the 24-hour coffee shop, and pool-side barbeque with Rajasthan folk dances and puppet shows. In addition, the hotel has a health Club, a shopping arcade, a swimming pool, croquet, table tennis, golf, billiards, safe deposit locker, beauty parlour, doctor on call, room service, bank, laundry service, and access e-mail/Internet in every room.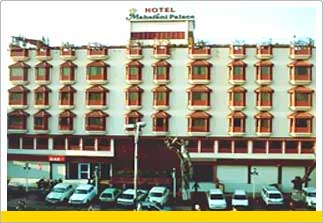 Hotel Maharani Palace, Jaipur
Station Road, Jaipur
From airport: 12 km; Bus Stand: 5 km; and, Railway Station: 5 km
The Best Western Maharani Palace is perfect for a comfortable stay. The hotel is a unique synthesis of the traditional and the modern. While the ethnically designed interiors bring back images of royal living, the hotel has been equipped with all ultra modern facilities.
Maharani Palace provides 24-hour room service in each of its 60 rooms and suites. In addition, the rooms contain a minibar, direct dial telephones, colour TV and channel music.
The dining and entertainment facilities in Maharani are varied. There is the Maharani Express Bar which is well stocked with the choicest brands of wines and liquors. The hotel's multi-cuisine restaurant, Geetanjali offers dishes from Continental, Indian and Chinese cuisines. In addition, the restaurant has live music shows. The rooftop bar-be-que by the poolside, Angithi, serves mouth-watering delicacies. There is a parlour for ladies and gents, Sringaar and the swimming pool helps you cool off after a hectic day of touring in the city.
SMS Hotel, Jaipur
Sawai Ram Singh Road, Jaipur
Located next to the Rambagh Palace, the SMS Hotel was actually a part of the annexe of the palace. It is set in four acres of lush green landscaped gardens. The central location of the hotel makes it convenient for the leisure as well as business traveller.
Adjacent to the SMS Convention Centre and near the city's business and shopping areas, the SMS Hotel's rooms are equipped with tea and coffee makers, colour TVs with satellite programmes, minibars, direct dialing phone facility, large wardrobes and work tables, purified drinking water, hot and cold water supply. Room service is available from six in the morning till midnight.
The hotel has a 50-seater air-conditioned dining room which serves Indian, Continental and Chinese fare for breakfast, lunch and dinner. The hotel also has a swimming pool and health club facilities.