A tiger roaming freely in the wilderness of its natural habitat is something all of us can only dream about. But our dreams are put to reality when we visit the Kanha National forest where tigers can be seen inside the reserve forest.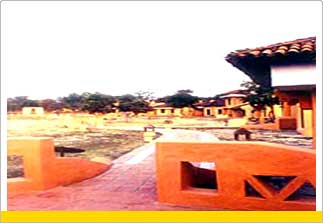 Tuli Tiger Resort Hotel, Kanha
Kanha National Park
Village- Mocha, Post: Kisli, Dist. Mandla (M.P.) India
Telefax : +91-7649-277221, 277251
Jabalpur - is 160 kms from the hotel, Nagpur is 255 kms away from Tuli Tiger resort, The nearest airport is Jabalpur which is 160 kms away
Situated in the heart of the Kanha reserve forest it is paradise for Tiger lovers from. Tourists come from all over the world to see this great animal . The resort is not only comfortable but gives you the feeling of being inside the jungle and yet secure. Spread over 80,000 sq meters, it is situated in the buffer zone of the park and also has a natural lake. It is adjacent to a rivulet which meet the river Banjar at a distance of about 100 meters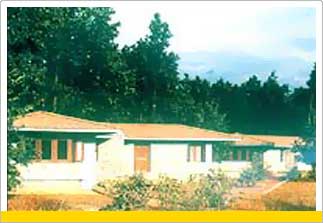 Wild Chalet Hotel, Kanha
Resort
Wild Chalet Resort
Kanha National Park,
Madhya Pradesh, INDIA
Closest railhead is Jabalpur which is 165 kms away from the resort.
Situated on the banks of the river Banjar, this jungle lodge provide accommodation in cottages with modern amenties. Besides taking a ride into the reserve forest you could sit around a camp fire or spend time reading books from the library, or explore the river valley and lakes or just go bird watchingWild Chalet provides guides on every jungle safari ride who points out the signs along the way - the pugmark, the drag of a kill - and other signals that indicate possibility of a tiger sighting. Guest can travel on a jeep or on the back of an elephant.
Hotel Chandela (Taj Group), Khajuraho
Location: Distt. Chhatarpur, Khajuraho
Access : 3 Kms from Airport, 176 from Jhansi & 120 Kms from Satna Railway Station & 1 Kms from Down Town.
This Five Star Hotel has 100 rooms including 4 suites. The hotel is centrally air conditioned set amidst lots of greenery.
It has all modern facilities with a swimming pool, multi cuisine restarurant and a tennis court.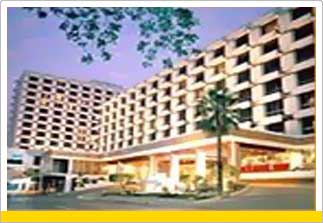 The Jass Oberoi Hotel, Khajuraho (Oberoi Group)

Location: By Pass Road, Khajuraho.
Access : 2 Kms from Airport, 170 Kms from Jhansi & 110 Kms from Satna Railway Station & 0.5 Kms from Down Town.

There are 94 rooms in all including 3 suites. This Five Star Hotel is centrally air conditioned besides having A multi cuisine restaurant and a swimming pool.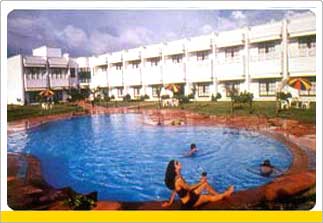 Clarks Bundela Hotel, Khajuraho (Clarks Group)
Location: Khajuraho
Access : 2 Kms from Airport, 110 Kms from Satna Railway Station & Close to Down Town.
This is a Four Star Hotel with 45 rooms which includes one suite. The hotel is centrally air conditioned and also has a swimming pool.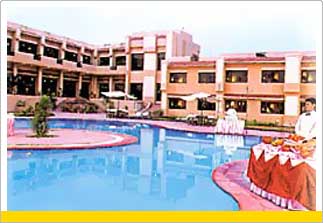 Hotel Clarks, Khajuraho)
Addres: Bamitha Marg (Airport Road),
Village Khajuraho,
Dist. Chhatarpur,
Khajuraho.
Location: 1.2 kms. from Airport,
1.5 kms. from Bus Stand.
Built on an expanse sprawling more than 18 acres of lush green gardens, this hotel has all modern Amenities like a swimming pool, shopping arcade, currency exchange facility and luggage storage Facility and much more.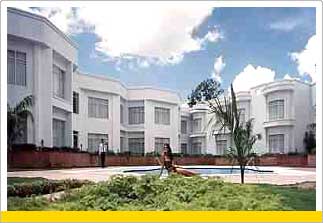 Holiday Inn Hotel, Khajuraho
Location: Airport road, Madhya Pradesh
This hotel has all the modern amenities to make its guests feel comfortable. Besides there is a swimming pool. There is also a gift shop and a gymnasium.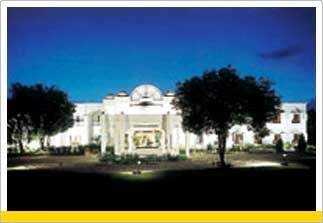 Usha Bundela Hotel, Khajuraho
Address: Temple Road
Khajuraho, Madhya Pradesh 471606, India
Location: Airport is 2.0 kms.
Bus Station is 1.0 kms
Usha Bundela, is spread out on on 4 acres of land, right in the centre of the city. With all modern amenities, it provides personalized care to its guests. It has 66 modern rooms and suites. There is also a swimming pool, a health club, outdoor games and conference facilities to make its guests comfortable.
One of the most visited cities on the Agra-Deccan route, Gwalior is a historic place. The Gwalior Fort, built in the 15th century by Raja Mansingh Tomar on a hilltop, overlooks the city and is a major tourist attraction.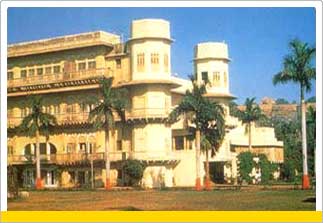 Hotel Usha Kiran Palace, Gwalior
Jayendraganj, Lashkar, Gwalior 474009
From Airport: 14 km; Railway Station: 4 km; Bus Stand: 4 km; and, City centre: 2 km
Usha Kiran Palace, originally built to welcome the royal visit of the King and Queen of England, is a heritage hotel. The Welcomgroup Usha Kiran Palace provides a wide choice of 30 air-conditioned rooms and suites. Each room has been done up to reflect royalty. While some rooms have Art-Deco furniture, the hotel's French mosaic floors create a feeling of cheerfulness.
Ideally located for the leisure and business traveler, the Usha Kiran Palace offers buggy rides, snooker, tennis, table tennis, croquet and badminton.
The hotel's coffee shop serves a wide variety of Indian, Continental and Chinese dishes.
Hotel Shelter, Gwalior
From Airport: 10 km; Railway Station: 1 km; and, Bus Stand: 1 km
Hotel Shelter is centrally located and guest are made to feel that their in a castle within the city. Shelter Hotel has 68 tastefully done up rooms. The hotel has a swimming pool and lawn where guests can relax.
The Hotel serves local and international cuisine in its multi-cuisine restaurant in a wide variety of Indian, Chinese, Mughlai and Continental dishes. The White House Bar is well stocked to provide cocktails and liquors of the highest order.
Gwalior Regency Hotel, Gwalior
From Airport: 8 km; Railway Station: walking distance; and, Bus Stand: walking distance
Located barely five minutes away from the Gwalior railway station, Gwalior Regency offers 51 luxurious rooms including six Executive and seven Special Suites. Each room has all the convenience available in a modern hotel. Gwalior Regency is situated amidst landscaped gardens. In addition, it provides a wide range of leisure and sporting facilities. There is a swimming pool, Jacuzzi and a Fitness Centre fully equipped with state-of-the-art equipment.
The hotel's dining facilities cater to a wide range of cuisines. The hotel is prepared to serve a leisurely breakfast, a midnight snack or an early morning meal from its multi-cuisine restaurant. The bar, Saaqi, has an extensive wine list.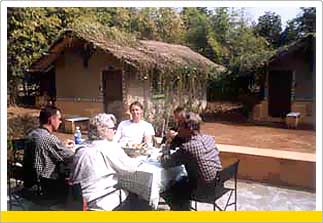 The Bandhavgarh National Park is around 200 km from Jabalpur and 210 km from Khajuraho. Situated in the Vindhya mountain range, Bandhavgarh is known for its Royal Bengal Tigers, cheetals, leopard, gaur, sambhar and bisons.
Jungle Lodge Hotel, Bandhavgarh (Two Star Hotel)
P.O. Tala, Distt Umaria-484661, Madhya Pradesh
From Khajuraho Airport: 280 km; and, Umaria Railway Station: 32 km
The Bandhavgarh Jungle Lodge is just a stone's throw away from the Bandhavgarh Tiger Sanctuary. Developed like an Indian village, the Lodge has 10 large double-bedded mud huts with thatched roofs, an inner courtyard and a four-roomed house with attached baths, hot and cold water showers, toilets and comfortable furniture.
The restaurant is a thatched dining room where the menu ranges from the Indian to Continental cuisine.
Within the Lodge boundaries there is a meadow where deer come after sunset. The Lodge has a library with large collection of wildlife books and magazines and arrangement for showing of wildlife films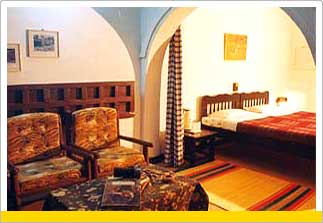 on TV are available.

Tiger Trail Resort Hotel, Bandhavgarh

From Khajuraho Airport: 240 km; and, Umaria Railway Station: 32 km

The Tiger Trail Resort is just a short drive from the Bandhavgarh Park. With the Badhavgarh Fort in view, the Resort with its 12 rooms are comfortable. The resort's restaurant serves Indian, Chinese and Continental food.