Marriott Resort Hotel, Goa
Goa Marriott Resort, a 5 Star Deluxe hotel in Goa is located on Miramar Beach.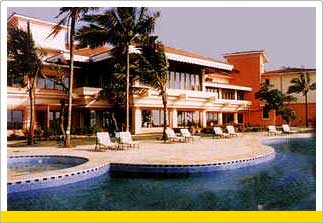 Located close to the capital city of Panaji, the hotel is designed to meet the demands of both the business and leisure traveler. The Resort has 155 superior rooms and 10 suites. A variety of dining options are available at the hotel from its Multi-cuisine restaurant to its specialty Chinese restaurant and its renowned seafood restaurant.
The Goa Marriott Resort has three Restaurants, three Bars, a Pastry Shop and Delicatessen. Palmeira serves International cuisine and hosts Goa's famous Jazz-Champagne Brunch. Wan Hao, the elegant Chinese courtyard-styled restaurant serves a Schezuan menu. Simply Fish at the Waterfront serves seafood cuisine. The Cake Shop & Delicatessen is famous for its snacks and savories.
There is also a cigar and coffee bar, casino and entertainment venue "Blu." The Spa and Fitness Centre offers Ayurvedic treatments, traditional massages, flower therapy, yoga and other holistic treatments from its Alternative Therapy Suite. There is a full range of "life fitness" equipment, sauna and jacuzzi, squash and tennis courts and at the waters edge a freeform 50 metre swimming pool with a swim-up bar.
The Grand Ballroom makes a perfect venue for a Business Conference, Wedding or Reception. Then there are Ela, Nelkinda and Sindabur, three plush individual Salons on the pool level, suitable for small meetings.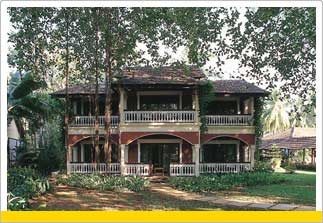 Hotel Taj Holiday Village, Goa
Taj Holiday Village is a 4 Star Hotel in Goa. Cottages are available with two, three, four, six and eight bedrooms. These cottages range from standard room to deluxe suites. In all there are 78 Standard Rooms, 57 Cottages , 5 Villas, and 2 Sea View Villas.
For exotic cocktails and seafood there is the Caravela restaurant. The Banyan Tree, set amidst huge banyan trees surrounded by a shimmering fishpond serves Thai Food. There is a special restaurant for children at the Kiddies corner. A bar-cum-discotheque 'Rock your Blues' is famous with the young crowd. The Beach House serves Goan delicacies.
There are three meeting rooms for executive meetings. There is a fresh water swimming pool at this resort with golf and tennis to keep you busy. And for lovers of the surf 'n' sand, there is water-skiing, parasailing, windsurfing and even dolphins. The health fitness centres with a spa and Jacuzzi and Yoga and Ayurvedic treatments keep you fit. For those who enjoy adventure, there is trekking and rock climbing to look forward to.
Hotel Cidade de Goa, Goa
Cidade De Goa Resort is another 5 Star Deluxe Resort at Goa. Cidade de Goa is located on Vainguinim Beach.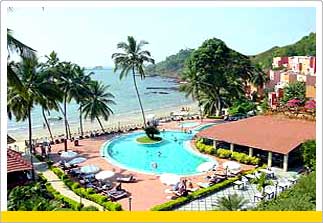 Built over 40 acres of lush greenery, as you enter the reception area, you are greeted with a spectacular view of the Arabian Sea. The statues of Vasco da Gama in his three facets as an Adventurer, Statesman and Philosopher, along with the fountains enrich the character and the ambience of the lobby.

There are 4 suites to choose from. The rooms are spacious and luxurious with cable TV, mini bar and with a view of the magnificent Arabian Sea. With LCD projectors and a wide range of conferencing facilites you can hold all your conferences without a worry in the world. The Convention Hall (Grande Sala) and the Sala de Banquete together with three breakaway rooms - Vista da Praia, Assembleia & Ultramar can host the largest conventions in Goa. The resort also has a Business Centre open 7 days a week with an attached boardroom.

ALFAMA serves Indian and Continental cuisine where you can dine by candlelight with live music. But if you want it Barbeque style, you can choose from a variety of seafood served on Saturdays or during the season. For those who enjoy an international cuisine, Miramar has the answer to all your hunger needs. If it is a snacky hunger which you want to satisfy, then visit the Lagoa Azul or the coffee shop which serves snacks and light lunches. The Taverna is a charming tea and snack lounge during the day and serves cocktails and beer at night.

Adega is a bar with something for everyone or taste the coolers and cocktails from the Latino Bar in the evenings coupled with music.

BARISTA where the atmosphere, the aroma, the flavor, the experience, the 'Joy of coffee' can turn you on with its distinguished ambience. That's what Barista coffee is all about at the Cidade de Goa.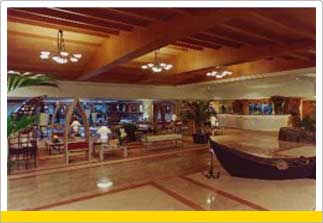 Hotel Radisson, Goa
Radisson White Sands Resort is a 5 Star resort. It is 40 minutes from Goa's Dabolim airport and 15 minutes from Margao.
Situated at Varca Beach, one of the longest beaches in the World, this resort has 110 deluxe rooms including 4 luxurious suites. With individual safes, mini bars, Tea/ Coffee makers, hair dryer, 25'' flat screen color televisions and the latest communication facilities, including Data ports for in-room laptop connectivity and 24 hour internet.
You could hold a conference with a fully-equipped business center with comprehensive secretarial support and communication equipment. The conference rooms range from the 250-seater ballroom to the 15-seater boardroom.
Hotel Holiday Inn, Goa
Holiday Inn Resort is a 5 Star hotel in Goa.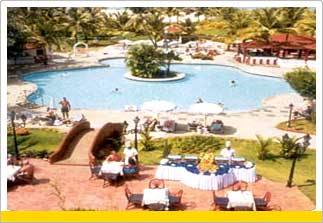 The Holiday Inn Resort is located at the Mobor Beach in South Goa.

Spread over 25 acres there are 170 rooms including one deluxe suite and 39 clubrooms and 130 standard rooms spread amidst swaying palms and landscaped gardens.

If you are craving for Chinese, Japanese, Thai & Indonesian delicacies; visit the Whispers of the Orient. A multi-cuisine restaurant and coffee shop at the Café Mardigras and Terrace. There is a daily international dinner buffet in the open-air restaurant at the Village. If seafood sizzlers are your passion, then the Fish Grill is where you should be. If you are looking for just relaxation with a tall drink, then visit the Sundowner bar. For those who would like to mix business with pleasure, there is a well-equipped business center with two elegantly-appointed conference halls.

The Coral Reef Conference Hall at the Holiday Inn seats 200 persons in theatre style. The Burgundy Board room is for smaller meetings.