Agra
The city of the Taj Mahal. Many have tried to capture the beauty of the world's monument to love through poetry, photographs or paintings but there is nothing like seeing the real thing.
Agra does not only have the Taj. It has some major landmarks like the Agra Fort, Tomb of Itmad-ud-daulah, the Jama Masjid, Jehangir's Palace, and Rambagh. In addition, visitors can also have a look at the mausoleum of the Mughal Emperor Akbar and his fort city of Fatehpur Sikri.

Amarvilas Hotel, Agra

Taj East Gate Road, Agra

From Agra Airport: 10 km; and, Railway Station: 6 km; Taj Mahal: 600 metres

The Oberoi Group's luxury Amarvilas is right next to the Taj Mahal. The 105 hotel rooms provide fascinating views of the monument. In addition, the Taj Mahal can be seen from the lobby, bar and tea lounge. The Oberoi Amarvilas has an all-day restaurant, the Bellevue, while Esphahan dishes out Indian cuisine for dinners. The tea lounge serves tea, coffee, pastries and afternoon snacks.

Amarvilas also has a spa which employs Ayurvedic principles for healthcare and relaxation.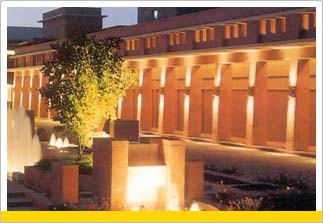 Jaypee Palace Hotel, Agra
Fatehabad Road,Agra
From Agra Airport: 10 km; and, Railway Station: 8 km; Taj Mahal: 2.5 km
The Jaypee Palace is built in the Mughal architectural style. Its 350 rooms and suites are meant for comfort and luxury of a high order. The hotel has speciality restaurants and a bar.
Mughal Sheraton Hotel, Agra
Taj Ganj, Agra
From Agra Airport: 10 km; and, Railway Station: 6 km
The Mughal Sheraton was awarded the Agha Khan Award for excellence in Mughal architecture. With beautifully landscaped gardens, some of the rooms of the Mughal Sheraton offers views of the Taj Mahal. The hotel's speciality restaurant, Nauratna, offers Mughlai cuisine while the Taj Bano has excellent buffets of Indian, Continental and Chinese cuisines. There is also a Chinese restaurant, Mahjong Room. The coffee shop, Bagh-e-Bahar serves Continental food with live music. The hotel's bar has an award winning bartender.